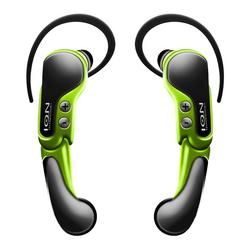 We felt the time for a totally independent wireless Bluetooth stereo earbud headset was long overdue
Aptos, CA (PRWEB) March 1, 2011
Ennova Direct, Inc. announced today the issuance of a new patent - US 7,747, 003, "Wireless headset apparatus and methods". The patent represents a breakthrough in wireless headset technology, whereby two independent wireless stereo earbud headsets form a stereo connection. This technology enables users to listen to music streaming from their Bluetooth enabled MP3 players or Smartphones with the added ability of taking and making cell phone calls, and all without the tangled mess of wires.
"We felt the time for a totally independent wireless Bluetooth stereo earbud headset was long overdue," according to Paul Regen, CEO of Ennova Direct and a former electronics engineer for Plantronics.
The '003 patent is pioneering as it marks the first efforts by any company to completely "cut the cord" and invent a totally wireless earbud headset that can either be worn independently on the ear, on any pair of sunglasses, a baseball cap, or via an optional behind-the-head band.
"We really aimed at inventing a headset that had the smallest footprint possible and that would be the most versatile wireless stereo headset invented to date. Everyone at Ennova is highly active and listening to music while doing the things we love is essential. For me, it's snowboarding, but I really don't enjoy the experience of having my headset cord twisted around my arms and neck or having my earbuds suddenly ripped out of my ears. This new patent represents a leap forward in wireless stereo headset design and we're very excited about it," said Peter Garrett, President of Ennova Direct, Inc.
The '033 patent is yet another high value intellectual property asset to be added to Ennova Direct's growing patent portfolio; the portfolio has six issued US patents (US 6,979,210, US 7,040,425, US 7,090,515, US 7,462,044, US 7,566,231 & US 7,747,033), with additional patents pending. The patents are directed to retractable USB flash drives, biometric USB flash drives, wireless Bluetooth MP3 players, and wireless Bluetooth earbud headsets.
About Ennova Direct Inc.
Ennova Direct, Inc. (http://www.ennovadirect.com) was founded in 2002 by Paul Regen and Peter Garrett, and is located at the northern end of the Monterey Bay in Scotts Valley, CA. Ennova Direct originally operated as a brand manufacturer but now focuses on its core competency of inventing and monetizing new consumer technology patents. The company's founders have a combined experience of over fifty years in consumer product inventing, design, development and manufacturing.
# # #