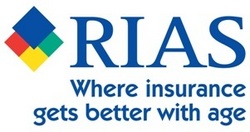 Our ITV3 sponsorship is a fantastic opportunity to further build our brand.
(PRWeb UK) March 1, 2011
RIAS and ITV3 have today announced that the over 50s insurance provider is the new sponsor of ITV3's early evenings from 1 March 2011 between 7 – 9pm.
This is the first major TV sponsorship for RIAS, following the extensive development work on the brand's identity, vision and proposition, and sees the specialist provider using a number of different home and motor-themed creatives to drive awareness of the brand amongst its individual, active and experienced customer market.
A 15 second introductory sponsorship message will start at the beginning of each of the classic drama programmes; favourites such as Downton Abbey and Midsomer Murders, with a 10 second sponsorship message starting and finishing every commercial break. Finally, at the end of every programme during the early evening slot, a five second sponsorship message will confirm RIAS as the ITV3 early evening sponsor. In addition, there will be online integration, with the sponsorship spanning programmes viewed online.
The RIAS ITV3 sponsorship is the first public exposure for the brand's new 'Reasons' campaign recognising that RIAS is expertly equipped to tailor its range of products and services to meet each one of its customer's individual needs. The adverts feature key messages including the personal touch, dedicated support, feeling at home, and experience having its rewards.
Working in partnership with The Black Hole, the new RIAS creatives celebrate that no two customers are the same and that everyone should be treated as an individual, shunning stereotypes of over 50s.
Sarah Howe, Marketing Director at RIAS comments: "Our ITV3 sponsorship is a fantastic opportunity to further build our brand. This is the ideal platform for RIAS to reach its diverse, individual customer base and bring to life some of the many reasons why our customers have chosen RIAS as their insurance provider, protecting and safeguarding the things that matter to them."
# # #