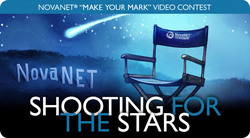 Phoenix, AZ (PRWEB) March 1, 2011
"Getting to know the whole student, not judging them by the things they have done in the past but helping them realize that they have a future, brings me great joy," said Travis Johnson, director of alternative education at the technology-focused Continuing Education Academy (CEA) in Arizona. Johnson oversees Tolleson Union High School District's digitally-driven efforts to ensure all students have the flexibility and access they need to achieve academic success. With the help of the online education program NovaNET, Johnson is making that difference in each student's life.
That's one teacher's story. Beginning today, the world's leading learning company Pearson is now asking teachers nationwide to enter a video contest to share their individual classroom experiences - like Johnson's - with NovaNET and NovaNET Courseware, digital learning programs for middle school students through adult learners.
The goal? Answer this question: How are you making your mark on education to prepare your students for college and careers?
To enter, a teacher will work with his or her students to create one video sharing an inspiring and thought-provoking story about how Pearson's NovaNET and NovaNET Courseware programs have helped the class reach academic goals and prepared them for college and career success. More than one entry per classroom is welcome.
"Teachers are our every day heroes. To celebrate all that teachers do to support quality education, we're launching this new 'Make Your Mark' video contest. We'll be shining a spotlight on how teachers are personalizing learning and empowering students to overcome challenges to reach graduation and move on to college," said Bob Roliardi, president of Pearson Digital Learning.
Video entries, not to exceed two minutes in length, should be submitted to http://www.PearsonSchool.com/MakeYourMark by May 14, 2011. A panel of judges will review each entry and award points based on how well the video illustrates creativity, energy/enthusiasm and students' learning outcomes.
On May 20, Pearson will announce the winning videos, awarding prizes for the first and second place finishers along with a prize for best video, as voted by the public on Pearson Digital Learning's Facebook fan page. Each video entrant will receive an iTunes gift card.
Pearson will award the grand prize winner with an Apple® iPad® and a trip to 2011 International Society for Technology in Education Conference (ISTE) in Philadelphia, Penn., June 26-29. The second place video will win an Apple® iPod touch® 8GB mobile digital device with speaker dock, which can help provide classroom access to free educational in podcasts, curriculum materials, and educational games.
In addition, Pearson will upload all videos to Pearson Digital Learning's Facebook fan page, and the public will vote on their favorite video to honor a "Fan's Choice" prize winner. This winner will receive an Apple® iPod touch® 8GB mobile digital device with speaker dock.
More details on the rules, requirements and the submission process are available at http://www.PearsonSchool.com/MakeYourMark.
About Pearson and Pearson Digital Learning
Pearson has a vision of effective education: a virtuous circle of learning where powerful technologies enable teachers to assess students unobtrusively, diagnose their learning needs swiftly, prescribe personalized learning, monitor student progress, and provide ongoing feedback to students, teachers, and parents. It begins by optimizing assessment data and putting it to work for continuous improvement in student progress and teaching effectiveness. For more information, visit http://www.pearsonschool.com or http://www.pearsonschool.com/digital.
Contact:
Stacy Skelly
1.800.745.8489
Stacy.skelly (at) pearson (dot) com
###