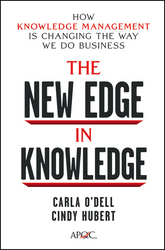 "This book helps an organization ride that trend and master the proven approaches for transfer of best practices, building communities, leveraging expertise, and using lessons learned."
Hoboken, NJ (PRWEB) March 1, 2011
In today's challenging marketplace, organizations must ask themselves if they are strategically leveraging the critical knowledge they have to succeed. Dr. Carla O'Dell and Cindy Hubert, two leaders from APQC, the award-winning knowledge management, benchmarking and best practices research organization, have released the definitive book on knowledge management (KM), The New Edge in Knowledge: How Knowledge Management is Changing the Way We Do Business (John Wiley & Sons, March 7, $45.00).
Based on 15 years and work with 450 companies, the book captures the most innovative practices to ensure organizations have the knowledge they need in the future and, more importantly, to connect the dots to succeed today. Using case studies from IBM, ConocoPhillips, Fluor, MITRE, the U.S. Navy, and many others, The New Edge shows executives how to create a measurable knowledge management strategy and how to pick and design the right approaches, including how to harness new social media and social networking.
"An increasingly savvy workforce is dictating how and when they need information," said O'Dell. "This book helps an organization ride that trend and master the proven approaches for transfer of best practices, building communities, leveraging expertise, and using lessons learned."
Additionally, the book provides insight on how to:

Focus attention on a solid value proposition for KM,
Determine an organization's most critical knowledge,
Ensure knowledge flows where it needs to,
Build a measureable business case,
Select the right portfolio of KM approaches, and
Incorporate these approaches into daily work life.
Hubert noted, "Whether you are just starting with KM, starting over, or trying to figure out the next big thing, this book could save you a lot of time and money. We have laid out the framework required to build a solid foundation for your KM program."
"Now, more than ever, knowledge management has taken center stage in this growing area of the socially connected enterprise. Vibrant case studies outlining lessons learned, successful tactics and principles, and strategies to share the best information an organization has are abundant in this new thought leadership. Readers will learn how to produce measurable results and affect the ways organizations share knowledge," said Melissa Marroso, associate partner, knowledge and collaboration with IBM, one of the companies featured in the book.
The book is a follow up to O'Dell's best selling business resource, If Only We Knew What We Know, which played an instrumental role in firmly establishing KM as an accepted and widely used management discipline. Carla O'Dell serves as APQC's President and Cindy Hubert is the organization's Executive Director of Delivery Services.
The New Edge is the latest release from John Wiley & Sons and available in print and e-book formats. To learn more, read an excerpt, or purchase a copy, visit http://www.NewEdgeInKnowledge.com and http://www.wiley.com.
About APQC
APQC is a member-based nonprofit and one of the world's leading proponents of knowledge management, benchmarking, and best practices business research. Working with more than 750 organizations worldwide in all industries, APQC provides organizations with the information they need to work smarter, faster, and with confidence. Visit http://www.apqc.org or call +1.713.681.4020 and learn how to make best practices your practices.
About Wiley
Founded in 1807, John Wiley & Sons, Inc. has been a valued source of information and understanding for more than 200 years, helping people around the world meet their needs and fulfill their aspirations. Wiley and its acquired companies have published the works of more than 450 Nobel laureates in all categories: Literature, Economics, Physiology or Medicine, Physics, Chemistry, and Peace.
Our core businesses publish scientific, technical, medical, and scholarly journals, encyclopedias, books, and online products and services; professional/trade books, subscription products, training materials, and online applications and Web sites; and educational materials for undergraduate and graduate students and lifelong learners. Wiley's global headquarters are located in Hoboken, New Jersey, with operations in the U.S., Europe, Asia, Canada, and Australia. The Company's Web site can be accessed at http://www.wiley.com.
###