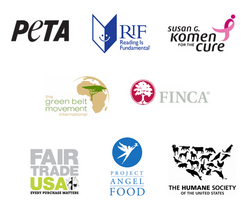 "We all love saving money, yet nothing feels as good as giving back. Here at Pure Citizen you can do both." - Amy Ludwigson
Chicago, IL (PRWEB) March 11, 2011
Since launching in November 2010, Pure Citizen has raised thousands of dollars for non-profit organizations through their innovative feature that allows members to give back a portion of their savings to a featured non-profit partner.
"I have been humbled by the generosity of our members," says founder Amy Ludwigson. "20% of our members use the feature and on average they donate 3% of their savings."
It has proven a very successful way to raise money for their non-profit partners including: Fair Trade USA, FINCA, Earth Pledge, PAWS, and PETA. On each item members have the option to reduce the amount of their savings by donating a desired percentage to a worthy cause. Members still save considerable amounts of money, sometimes up to 90%, even when they give back.
Yet, being able to give back through donations is only part of the story. 100% of their company is committed to social and environmental responsibility from the companies they feature to the products they sell, all of which must meet certain ethical criteria.
"We all love saving money, yet nothing feels as good as giving back. Here at Pure Citizen you can do both." -- Amy Ludwigson.
About:
Pure Citizen is an innovative flash sale site that features ethical companies and allows their members to not only save, but also give back to featured non-profit organizations. They have featured popular brands like Matt & Nat, Stewart + Brown, Sigg, Envirosax, Indigenous Designs, Priti Nails, and more. Since their launch they have been featured by CNBC, Inc, and top blogs including Ecouterre, Goodlifer, The Kind Life, and Ecofabulous. The site was founded by the ever passionate healthy home expert, Amy Ludwigson, as a way to use the power of the sale to do great good in the world.
For more information contact
amy(at)purecitizen(dot)com
http://www.purecitizen.com
1-630-975-1040
# # #