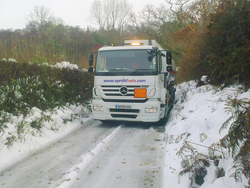 (PRWeb UK) March 2, 2011
When one of Sprint Fuels' tankers became stuck on a hill as it was making deliveries in this winter's snow, managing director Henry Drake knew exactly who to call.
He needed someone local with access to heavy duty machinery and a decent winch, so he picked up the phone to RAMSAK, the Ring of Agricultural Machinery in Sussex and Kent.
RAMSAK is a co-operative of farmers and landowners which exists to help share farming resources, particularly machinery and skilled labour. The organisation had already been working closely with Sprint Fuels and was only too pleased to help.
"I can't sing enough praise for Sprint Fuels" says Angus Campbell, manager of RAMSAK. "Henry moved heaven and earth to get fuel out to our members so, in turn, we were thrilled to be able to come to his aid when he got his vehicle stuck. It was a real team effort – good for the soul!"
RAMSAK members were on 24-hour call out helping each other clear snow, and, as luck would have it, one member nearby did indeed have the requisite winch to help shift the stricken tanker. It was this spirit and resourcefulness which enabled Sprint Fuels to maintain its deliveries throughout this winter's snow.
And, for Henry Drake, the co-operation was a demonstration of the culture of both organisations: "It kind of sums up the ethos of both businesses. We really had to pull together to get fuel to people in such treacherous conditions. It's all about working together for the customer."
Sprint Fuels is hoping that winter's worst is now behind us as it turns its attention to fulfilling upcoming demand for red diesel orders from agricultural customers. However, the supportive co-operation between the two businesses will continue into the future.
For more information, please visit http://www.sprintfuels.com.
Notes to editors: Sprint Fuels is a fuel delivery supplier based in Kent and provides home heating oil, industrial and agricultural fuels to customers across the South East. A small independent business, it prides itself on its personal, friendly service which is very much a feature of that independence.
RAMSAK (Ring of Agricultural Machinery in Sussex and Kent) is a co-operative society of farmers and agricultural and rural businesses who have the aim of reducing machinery and labour costs. Its core business is centred on improving the use of farm machinery and skilled labour but it is steadily increasing the services on offer to ultimately become a one-stop shop for agricultural and rural services.
###