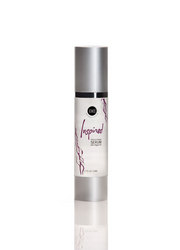 We have come a long way since our launch in May 2010, and we have worked hard to get to where we are today.
Beverly Hills, CA (PRWEB) March 2, 2011
BE Beverly Hills Inspired Shine & Repair Serum is the original eco-luxury hair care line. It uses all natural ingredients while producing fantastic results without weighing hair down or making it feel oily. Inspired works on all ethnic hair types and even gives body to hair extensions. It is considered to be revolutionary in the hair care industry and is one of the fastest growing hair care products available on the web. It has over 100,000 fans on Facebook and over 25,000 fans on Twitter. BE Beverly Hills contributes most of its success to the internet and will be re-launching its own website, http://www.bebeverlyhills.com on March 4, 2011.
With all of its fantastic innovations, it is no accident that BE Beverly Hills Inspired has been nominated for not one but two 2011 Cosmetic Executive Women (CEW) Beauty Awards in the "Best Brand" and "Best Product" categories. You can see a live demonstration of BE Beverly Hills Inspired Shine & Repair Serum at the Beauty Awards on Wednesday, March 9, 2011, Metropolitan Pavilion, 125 West 18th St., New York City, NY, 6:00 – 8:00 pm and be sure to catch a re-cap of the event on the new and improved http://www.bebeverlyhills.com.
BE Beverly Hills is going all out to let the public know about its nominations with postings on the company's social media outlets. It will also hallmark the event with the re-launch of its official website. In addition to the awards, http://www.bebeverlyhills.com will also keep clients and fans abreast of all the latest news and happenings with BE Beverly Hills. The domain will have fully integrated components with Facebook and Twitter and will feature the official debut of "BE TV" that highlights a "how to" video library, exclusive membership and access to member discounts, plus an entire section on celebrity stylist, Frankie Payne. Frankie says he loves the results he gets for his clients, Cameron Diaz, Kelly Rowland, Eva Longoria, Nicole Scherzinger, Fergie and Kim Kardashian and has joined BE Beverly Hills as its official spokesperson.
"We have come a long way since our launch in May 2010, and we have worked hard to get to where we are today," said Michele Owen, Co-Founder of BE Beverly Hills. "When we first entered the beauty industry and announced our intention to leverage social media as our launching pad, we were told by many that our strategy wouldn't work. Now ten months later, we are extremely excited to be nominated for two beauty awards."
The CEW has over 4,000 members in the beauty industry, including manufacturers, suppliers, publishers and retailers. Representing over 1,100 companies, membership is multigenerational and equally representative of entry level, mid career level and senior level executives.
About BE Beverly Hills:
BE Beverly Hills Inspired Hair Care Line was created by women with the mission to empower women. The inspiration to create an eco-friendly beauty line comes from the idea that a woman is most confident when she is radiant and beautiful. Using high-quality natural ingredients and revolutionary formulas, BE Beverly Hills eco-luxury hair care line regenerates and improves the overall health of hair safely and effectively.
Inspired Shine & Repair Serum combines the power of premium organic Argan Oil with other rejuvenating all-natural ingredients to renew, rehydrate, repair, and protect your hair anywhere. Originating from the deserts of Southern Morocco and perfected in Beverly Hills by world-renowned chemists, Inspired Shine & Repair Serum will transform your hair with only a few drops a day. Using a non-greasy, paraben-free formula that includes no artificial coloring or additives and a light lavender scent, Inspired Shine & Repair Serum helps keep your hair youthful and stylish all day.
For more information on BE Beverly Hills and Inspired Shine & Repair Serum please contact Keith L. Underwood of UMA Worldwide at 323.298.0929 or by email at keith (at) umaworldwide (dot) com. Be sure to also visit BE Beverly Hills on the web at http://www.bebeverlyhills.com.
###