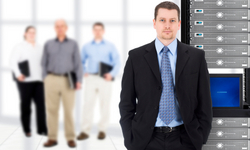 We are delighted to have won this important distinction
Englewood, CO (PRWEB) March 3, 2011
LeaderQuest has been recently appointed as an Authorized Training Partner by the EC-Council, joining an elite group of information security training companies authorized to conduct EC-Council Official Curriculum Courses including the coveted Certified Ethical Hacking (CEH) course. The CEH Certification Program validates an individual's knowledge in the network security discipline of Ethical Hacking from a vendor-neutral perspective.
"We are delighted to have won this important distinction", says George Cohlmia, President and CEO of LeaderQuest. "Through this partnership, it is our goal to make LeaderQuest a leading provider of top-tier IT Security training for both government and commercial network security requirements and we can now offer the complete package. By combining EC-Council courses with our Cisco Security Courses and Microsoft Security courses, LeaderQuest provides our clients the skills to effectively and proactively manage their network security issues."
The Certified Ethical Hacking Certification adds yet another excellent IT security course to the LeaderQuest training library and further positions LeaderQuest as one of the most prominent information technology training providers in the nation.
About LeaderQuest:
LeaderQuest offers a tailored blend of products, services, and technologies that help organizations plan, develop, deploy and manage strategic or tactical training investments in IT and leadership development.
LeaderQuest has trained thousands of IT and business professionals since its inception in 2001 and uses a range of capabilities in delivering its solutions including over 400 hands-on courses, over 12,000 E-Books, and a complement of Cloud-Based learning services. All of this is delivered by a team of technology and business experts bringing results-oriented solutions to individuals, companies, and government clients.
About EC-Council:
The International Council of E-Commerce Consultants (EC-Council) is a member-based organization that certifies individuals in various e-business and security skills. It is the owner and developer of the world famous Certified Ethical Hacker (CEH) course, Computer Hacking Forensics Investigator (CHFI) program, License Penetration Tester (LPT) program and various other programs offered in over 60 countries around the globe. EC-Council has trained over 80,000 individuals and certified more than 30,000 security professionals. These certifications are recognized worldwide and have received endorsements from various government agencies including the US federal government, National Security Agency (NSA), Committee on National Security Systems (CNSS), US Army, FBI, Microsoft and CERTs (Computer Emergency Response Team) of various nations. The UUS Department of Defense has included the CEH program into its Directive 8570, making it one of the mandatory standards to be achieved by Computer Network Defenders Service Providers (CND-SP).
###