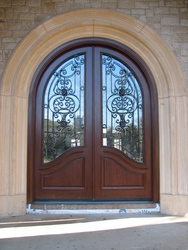 Grand Doors specialize in renovations and Custom Homes. They supply and install custom wood exterior doors, Custom Iron, and custom Fiberglass doors,
Brooklyn, NY (PRWEB) March 18, 2011
Brooklyn-based company Grand Doors has been providing magnificent entryways for homes and businesses throughout New York, New Jersey and Connecticut for countless clients of demanding expectations. With an acclaimed installation team, a strong team of well-seasoned craftsmen with years of experience, http://granddoors.com Grand Doors can offer solutions for projects of any size, scope, and budget. Whether clients are looking for entryway solutions at newly constructed homes, or are looking to replacing old doors and landmark doors, they can expect nothing less than perfection.Grand Doors strives to set the standards of excellence from inception to completion for each of their projects. Their efforts have yielded powerful results, creating word-of-mouth interest in their projects throughout the tri-state area.
Grand Doors understands the importance of providing a quality product while exceeding the expectations of their clients. The company's craftsmen and team members take all preliminary measurements and assume responsibility for the fit and feel of each unit, ensuring that the fully-installed unit arrived with all required hardware and customer specifications. The finished result of each Grand Doors project is a fully-orchestrated and precise entryway, installed with precision and master craftsmanship. As a result of their exacting standards, no project is too difficult for the Grand Doors team of craftsmen.
Upon visiting the company's state of the art showroom, customers are provided with friendly and helpful service from knowledgeable staff members. The showroom provides a perfect backdrop for customers to see a wide range of products and solutions. Because Grand Doors places a priority on design and aesthetic choices, the company features the largest selection of doors in the tri-state area. Designs at Grand Doors run the gamut from traditional, contemporary, classic elegance, and Old World authenticity. Customers have said that the company's options delight their senses while providing them with inspiration for their next project, all at a cost that allows expert craftsmanship at any budget. As the region's premier purveyors of architectural doors, moldings, and hardware,Grand Doors prides itself on its selection of products. At Grand Doors, the company puts its customers above all else.
Grand Doors includes various options when it comes to materials and designs, with a perfect option for any building and remodeling plans. Wood and wrought iron doors provide the perfect combination for many of the company's clients. Reminiscent of old world charm and classic elegance, these doors can enhance any entrance without compromising on security. Customers can choose from various designs, or even have their doors custom-made by skilled craftsmen to meet any specifications.
Carved wood doors are another popular option at Grand Doors. The doors are built to last and are as solid as they are strong. These doors provide a rich and dignified look to any entrance way. With a vast selection of styles and designs, customers will find the perfect carved wood door at Grand Doors. Carved wood doors are available in a variety of beautiful woods including mahogany, walnut, oak, and alder. Each door is hand-carved with intricate designs, and are polished to a magnificent finish to completely satisfy customers' needs.
Fiberglass doors provide all of the elegance of hardwood without the maintenance and care. Grand Doors' fiberglass options have the look, feel, and aesthetic qualities of a hardwood door, but include the added benefit of being weatherproof. The company's fiberglass doors do not crack or fade with time, and withstand weather damage with ease. Each door is custom-made in a variety of styles and sizes, and can provide a quick way to renovate a home.
Hand-forged Iron Doors are all crafted by hand at Grand Doors' workshop. These doors provide the utmost security for customers, and are not affected by harsh weather. These qualities make hand-forged iron doors a great option for the front doors of their many clients. Lasting a lifetime, hand forged iron doors will last a lifetime while beautifying a home, building, or club for decades to come.
To view Grand Doors' full line of doors of any make and size, visit their website (http://www.granddoors.com). Additionally, viewers can look at a vast portfolio of satisfied clients and review the company's installation standards. What's more, Grand Doors will create and hand-carve any door that clients have seen, from any catalogue or source. The company has built solid wood antique doors, created beautiful carvings, and have created unique and fashionable doors at the request of their clients. For those looking to buy from a company that takes responsibility from the first cut to the final polish, look no further than Grand Doors.
###