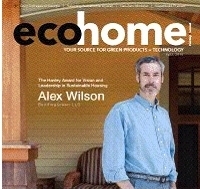 We asked Alex Wilson, an environmental journalist specializing in the built environment, to give us a preview of the companies and products he's most excited to see during the BuildingEnergy Trade Show.
Greenfield, MA (PRWEB) March 2, 2011
Architects, designers, planners, builders, policymakers, manufacturers, and installers will be gathering in Boston next week for The BuildingEnergy Conference & Trade Show (http://www.nesea.org/be11/), the annual event organized by the Northeast Sustainable Energy Association. The BuildingEnergy Trade Show, open on March 9th and 10th, is the Northeast's largest and most comprehensive, with 170 exhibitors displaying the products and services that support renewable energy, energy efficiency, and high performance building.
This year, we asked Alex Wilson, an environmental journalist specializing in the built environment, to give us a preview of the companies and products he's most excited to see during the BuildingEnergy Trade Show.
Wilson is the founder of BuildingGreen.com and executive editor of Environmental Building News, one of the most respected green building publications in the US. In 2010, he won the prestigious Hanley Award for Vision and Leadership in Sustainable Housing. In a recent article in Eco Home Magazine, Michael J. Hanley of the Hanley Foundation, creator of the award, described Wilson's impact on the industry: "Alex Wilson has quietly and methodically gone about the business of changing the way we build by defining green product standards, promoting performance-based thresholds for projects, and challenging all sectors of the industry to become active and honest brokers in advancing environmental building."
Here are the names of some of the exhibitors from the BE11 Trade Show that Wilson thinks are particularly noteworthy – from A to Z!
AllEarth Renewables
Wilson: "They are a leading producer of tracking systems for PV arrays. As I travel around, I'm seeing more and more ground-mounted PV systems on optimal solar sites that boost performance by tracking the sun. I think this will continue, so it's worth learning more about PV tracking systems. Visit the AllEarth booth and ask about their AllSun trackers."
AW Hastings
Wilson: "Check out what's new with Marvin Windows in the AW Hastings booth. I've been really impressed with how actively Marvin has gotten into triple-glazed (multiple-low-e) windows and the availability of FSC-certified wood. They can also provide low-e optimized windows for a northern climate where you want to benefit from solar gain."
ECR International
Wilson: "They are demonstrating that American ingenuity is still alive and well in the NVAC world, even as high-tech European products flood into the U.S. market. ECR has some great new condensing boilers and furnaces, and also manufactures the Freewatt mini-combined heat and power system for residential use – a pretty cool system!"
Flir and Fluke
Wilson: "Both Flir and Fluke are exhibiting their state-of-the-art infrared cameras. As prices come down and as features and resolution improves, thermographic analysis is becoming practical for even relatively small design and construction companies. These cameras increasingly belong in your toolbox."
GreenFiber and National Fiber
Wilson: "These two companies are showing off their cellulose insulation products. No major changes here that I'm aware of, but it's great to see continuing presence of this 'greenest' of our insulation materials at the GreenFiber and National Fiber booths."
Mitsubishi Electric
Wilson: "They are one of the reasons the ground-source heat pump industry should be quaking in its boots. Advanced mini-split, air-source heat pumps from Mitsubishi Electric and a few other Japanese companies are showing that air-source heat pumps can perform as well as most ground-source heat pumps – for a lot less money. Every time I look, Mitsubishi has introduced some new innovation or reached some new threshold of performance. They are definitely worth checking out!"
Stiebel Eltron
Wilson: "The German company, Stiebel Eltron, is one of the leaders in packaged solar water heating systems. They offer both flat-plate and evacuated-tube systems. The company is also a leader in heat pump water heaters. I believe theirs is still the highest-performance model available in North America. Check out the company, and see what's new."
The Energy Conservancy
Wilson: "I am always glad to see The Energy Conservatory at NESEA's BuildingEnergy Conference & Trade Show. Gary Nelson and his team have pioneered diagnostic blower-door testing that is at the heart of performance-based metrics of building performance. They continue to introduce new features and products."
Thermotech
Wilson: "Thermotech Fiberglass Windows continue to push the envelope on window performance. Stephen Thwaites, of the company, knows windows better than almost anyone I know. I look forward to stopping by and seeing what's new – and getting up to speed on advanced glazings."
Viessmann
Wilson: "They are another German company. While their oil- and gas-fired heating equipment is cutting-edge, I am even more excited by their advanced biomass-combustion systems they are introducing to the North American market. I'm not sure if Viessmann will have its biofuel boilers on display, but I'm sure they will at least have literature."
Zehnder America
Wilson: "Zehnder America represents state-of-the-art in high-efficiency and ultra-quiet heat-recovery ventilation. Their Swiss systems are brilliant not only in their high performance, but in their elegance and ease of installation. Who knew ducting could be so fun? Check out their ComfoUnit HRVs and ComfoFresh air distribution systems!"
BuildingEnergy Trade Show floor passes are $30 until March 4, 2011, and $35 on site. To buy a floor pass or register for BuildingEnergy Tuesday workshops or Wednesday or Thursday Conference sessions, register online at http://www.nesea.org/be11/conferenceregistration/ through Friday, March 4. On-site registration begins Tuesday, March 8.
About The BuildingEnergy Conference & Trade Show
NESEA's BuildingEnergy11 takes place at the Seaport World Trade Center March 8-10, 2011. This year's conference sessions range from emerging trends in renewable energy to healthy alternatives to traditional building materials to deep energy retrofits of commercial, residential and historic buildings. NESEA is the only conference that requires its building case studies to adhere to strict guidelines that include a full year of energy data, reaffirming a commitment to present the best building and energy practices at this conference. The conference includes 63 sessions and 25 full‐ and half‐day workshops. The BuildingEnergy Trade Show features 170 exhibitors showcasing the latest sustainable technologies, products, and services. http://www.nesea.org/be11/
About NESEA
Formed in 1976, the mission of the Northeast Sustainable Energy Association (http://www.NESEA.org) is to increase sustainability in the built environment. NESEA does this by connecting professionals to each other and to information. With a strong basis in whole systems thinking, this membership organization facilitates and enables critical thinking and collective learning between all of the professional disciplines that contribute to the built environment. NESEA serves architects, planners, engineers, manufacturers, builders and policy analysts in public and private companies in the 10 northeastern states.
###