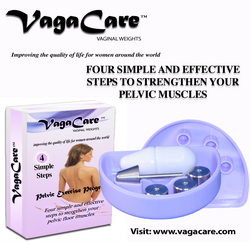 I found this product right before I was to schedule my surgery and glade I did. After three weeks of doing the program, I canceled my surgery and my Doctor was shocked.
Venice, FL (PRWEB) March 22, 2011
Medgo LLC is pleased to announce the VagaCare™ vaginal weight set, a new program that increases pelvic muscle strength. The vaginal weights are designed to help treat stress incontinence without surgery by allowing women to correctly and effectively perform kegel exercises and improve bladder control.
Stress incontinence is a common condition among women – its symptoms include accidentally leaking urine when laughing, exercising, coughing or sneezing. It's often caused by weak pelvic or sphincter muscles. Using VagaCare™ vaginal weights, women can strengthen these muscles in order to improve bladder control without the use of drugs or invasive surgery.
The weights are specially designed for a secure fit, so that women can use them comfortably while performing kegel exercises. These exercises involve tightening and relaxing the pelvic muscles – inserting a vaginal weight and holding it in place while doing them can increase their effectiveness. Although many women begin using the weights while lying down, the interchangeable weights allow them to increase muscle strength over time, at their own pace. Eventually, women can use them while jogging or doing work around the house, but they should be used for only short periods – ideally two 5-10 minute sessions per day. Most women notice a difference within a few weeks, but the weights' hypoallergenic material ensures safe continued usage.
VagaCare™ vaginal weights can even be used as a preventative tool for women who don't suffer from stress incontinence, as strong pelvic muscles will decrease the risk of developing this condition. Some women have also found that the increased muscle strength from using these weights improved their sex lives and eased the pain of childbirth.
Medgo LLC has been in business for more than 16 years and serves the medical industry and individual customers. They specialize in dietary supplements and incontinence supplies, and have made both excellent customer service and high quality products a priority.
"We have been on a mission to add value to our lives and the lives of those around us," said Richard Blackford, Medgo LLC's representative. "Our mission is to become the leading developer and worldwide marketer of products of the highest quality and value. We are committed to providing our customers access to effective and affordable treatments to enhance their health and well being."
For more detailed information about stress incontinence, the program's steps and purchasing information, please visit http://vagacare.com/. For tips on performing kegel exercises, please visit http://kegel-exercises.com/.
Distributors and Medical Organizations: please call 941-492-4110 and ask for Richard.
###