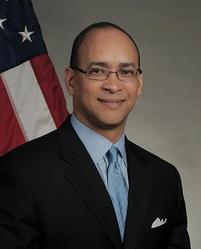 Chicago, IL (PRWEB) March 3, 2011
The Alliance of Merger & Acquisitions Advisors and the International Society of Primerus Law Firms announce the 3rd Global M&A Symposium: The New Economics for the Private Middle Market scheduled May 10-12, 2011 in London. One of the many featured speakers at this event is the National Director of the Minority Business Development Agency, U. S. Department of Commerce, David Hinson. His keynote presentation highlights: "Undiscovered Markets in the U.S. - The Power of the Minority Business Community"
Director Hinson will discuss Mergers & Acquisitions as Growth Strategy for Middle Market Minority Businesses globally. According to Director Hinson, "Today's competitive environment requires doing away with growing businesses organically – one contract at a time or staying in the safe lane with businesses that require little overhead and slow returns."
"Business growth in the new global economy requires thinking outside the box, expanding into new high-tech markets such as clean energy, green technology, and healthcare IT. It requires new business models of mergers, acquisitions and strategic partnerships".
Michael Nall, AM&AA Founder, noted that "International M&A is growing and Middle Market companies are the largest share of that activity. With this substantial increase, participating in this extraordinary event is an essential part of the professional transformation required of all of us to compete on the global stage in the 21st century.
"The AM&AA member community is on the forefront of thought leadership in the Private Middle Market providing educational conferences, a soon to be published Middle Market M & A Handbook, as well as a professional training and certification program. The "Certified M&A Advisor" (CM&AA) is offered in collaboration with Pepperdine University currently pioneering research on the financing behavior of equity and debt sources for middle market, privately-held companies."
Addressing the issues of The New Economics for the Private Middle Market, the 3rd Global M&A Symposium will cover the following:
Global Issues

Economic Forecast for 2011-2012
Trends in Global Financial Markets
Recession's Effect on Political Risk Profiles
Due Diligence in Cross-border Transactions
Changes in Regulatory Environments
Regional Issues

Transatlantic (EU/US/Canadian) Transactions
Middle East Assessment
Demographic Changes & Regional Differences
National Issues

Brazil, India, and China
EU Merger Control
Technical Issues in US Transactions
Alderman Michael Bear - Lord Mayor of the City of London will open the Symposium. Speakers and panelists are highly informed opinion leaders including: John Normand – J.P. Morgan, Karim Pakravan – DePaul University, Stephen Timewell, Editor Emeritus for The Banker Magazine, Mark Lanyon – Morningstar and Chilton Taylor, Baker Chilton Taylor, Baker Tilly Corporate Finance LLP, Daniel Confino, MergerID, Adeodato Volpi Netto, Open Point Partners Stephen Anstey , BCMS among others.
To learn more about the 3rd Global M&A Symposium, please visit http://www.amaaonline.com/node/3856
About the AM&AA
The AM&AA is the leading association and credentialing body for 750 + middle market M&A professionals in 19 countries, providing connections, best practices and education. AM&AA members represent sellers and buyers of businesses ranging from $5 to $500 million in transaction value. Their services are due diligence, accounting financing, business valuation, tax planning legal, strategic, other advisory and transaction support services.
Our primary goals are to help members improve their level of knowledge, give them access to the tools to help them better market and deliver their services, and provide them with a network of knowledgeable professionals with whom they can share information and resources.
Our Alliance offers members a solid platform for professional collaboration. Our professional members work to provide the entire spectrum of consulting and corporate financial advisory services to measure, build, finance, and convert business value into personal wealth. For more information, Please visit the website http://www.amaaonline.org/ or contact Diane Niederman at (312) 856-9590.
About Primerus
Primerus is an international society of top-rated, independent, boutique law firms that have earned the right to display the Primerus seal of quality. As one of the most respected law firm societies, Primerus has over 170 member firms in 125 cities located in 23 countries throughout the world. Primerus has become the size of some of the world's largest law firms. However, unlike most large firms, Primerus is growing at an unprecedented pace, and is expanding throughout Europe, Asia, and elsewhere around the globe. In every country, Primerus lawyers have the skill and experience to advise clients on the international aspects of their transactions. High quality legal services at reasonable fees – that's how Primerus can work for you. To learn more about how Primerus can provide the trusted legal advisors you need, visit http://www.primerus.com or call 1-616-454-9939.
M&AUK
###