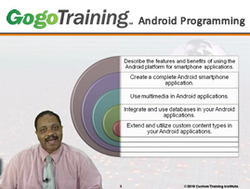 Android [is] experiencing significant growth in demand and offering long-term opportunities for job seekers and currently-employed programmers
Scottsdale, AZ (PRWEB) March 2, 2011
In response to significant demand surrounding the need for Android programmers, GogoTraining has developed the Android Development Training Program geared toward helping programmers and software developers gain necessary skills to capture jobs in this rapidly expanding market.
Android was identified as a technology experiencing significant growth in demand and offering long-term opportunities for job seekers and currently-employed programmers based on the rise in adoption of Android-enabled devices (mainly smartphones and tablets), a continually emerging and expanding user community, and rising interest by established companies to adopt the platform for internal use.
"Demand for those with Android programming skills grew 424% last year and we are still in the early stages of Android developers being sought after by major employers," said Marianne Cherney, CEO of GogoTraining. "Resources available for new and experienced programmers to ramp up into Android development are sparse so we ramped up to meet the need with an effective and affordable training solution suitable for individuals and corporate training."
The Android Development Training Program is comprised of four courses, including two prerequisites and two core courses. The prerequisite courses are Programming in Java 6 with Swing and Servlets (Parts 1 and 2) and the core courses are Introduction to Android Programming and Advanced Android Programming. "The prerequisite courses are optional if the student already has a comfort level with Java programming," said Cherney. Courses may be purchased individually or as a packaged set.
"We are pleased to have Michael Simpson teaching these courses, which continues GogoTraining's focus on offering courses taught by industry experts," said Jeanne Allen, Director of Operations for GogoTraining. "Mr. Simpson's deep background as a developer and instructor translates into a major benefit for learners at any stage."
Prospective students may learn more about The Android Development Training Program at the following web address: http://gogotraining.com/training/programs/android-development.php
About GogoTraining
GogoTraining provides actual classroom courses taught by industry experts in an online, self-paced, affordable format. The training is for software, hardware and management professionals. For more information, please visit http://www.gogotraining.com or contact Tim Salam at tim(at)gogotraining(dot)com or by calling 1-877-546-4446.
###