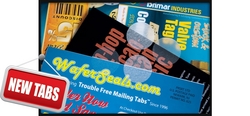 (PRWEB) March 3, 2011
Waferseals.com, a division of Brimar Industries, Inc., has just released a new product. Our new TransUltra™ 1 ½" diameter wafer seal is dramatically more translucent and compliant with the new 2008 USPS regulations (39 CFR Part 111) for the mailing of booklets.
Waferseals.com understands that when it comes to choosing how your customers seal their mail, two deciding factors include price and attractiveness. We agree that wafer seals should be cost effective and should not produce a negative impact on the appearance of the mailing piece. These new TransUltra™ tabs accomplish both goals with ease.
It's important for marketers and mailing houses to understand that the use of wafer seals is still a very cost effective way of reducing the cost of mailing. The cost of the new TransUltra™ 1 ½" tab is approximately 30% more than the standard translucent tab, but that cost is still only 3/10ths of one penny per individual tab. The total cost for three tabs on a booklet is less than a penny vs. the 20 cents increase per booklet ( 3oz 9 x 6" ) if sent flat rate without tabs. This means that for customers, the expense of bulk rate mail is not in the cost of the tab. This is not to say that all tabs are made equal! Quality matters, and those that choose Waferseals.com tabs know that when it comes to running mailing tabs, no tab runs faster or more trouble-free than a Waferseals.com tab.
This new TransUltra™ product from Waferseals.com will be particularly successful with customers that produce highly stylized booklet covers. The appearance of standard translucent tabs can often be objectionable on these pieces, causing frustration when booklets arrive with visible tabs marring their appearance. Waferseals.com tabs are barely noticeable when applied to most mailing pieces.
All customers using these new tabs will also be pleased to find that these tabs eliminate the frustration and damage caused by attempting to open booklet covers that use clear tabs without perforations. These new TransUltra™ Tabs open with ease and without tearing the cover.
It is well known that there is still no better way of reaching a B to B or B to C customer than through powerful direct mail pieces. This method remains as relevant today for making contact, spreading product information, and gaining customers as it was 15 years ago. Waferseals.com was here then, providing the quality, service, and savings our customers have come to expect, and we'll be here 15 years from now with even more innovative solutions, a huge and expanding inventory, and the most tabbing options on the market.
Waferseals.com will have this new TransUltra™ product on display at MAILCOM 2011 or you can see it for yourself now by requesting a sample by phone at: 800-274-6271, on the web at: waferseals.com or by emailing sales(at)brimar(dot)com.
###