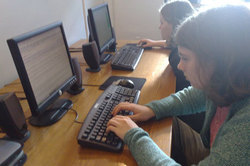 We prevent bullying - the solution was fairly simple – mutual respect and vigilance.
New York, NY (PRWEB) March 2, 2011
The Smith School, a small New York City private school, celebrates its 20th anniversary as a successful alternative to larger and more traditional schools (see NY Times article: Private Schools 'Counsel Out' the Unsuccessful). Founded in 1990 by Director Karen Smith, the school offers a flexible program of academic study for grades 7 to 12. It is unique among other New York City private schools in its adherence to small class sizes and personalized curriculum.
Reputed as a school that accepts all types of students (gifted, disabled, failing, or troubled) from other institutions, the Smith School succeeds in integrating this diverse set of students into a nurturing family-like setting. The small class sizes (average 5 per class) ensure that every student receives the support and guidance needed for success.
In this 20-year celebration, Karen Smith highlights the school's success in eliminating bullying from the school experience, "Being the target of a bully is one of the most devastating experiences of childhood. It is estimated that about 50 percent of children have been bullied. The results can be catastrophic – many targets of bullies fail in school, or worse. Since our beginnings, the Smith School recognized this problem and took steps to prevent it. The solution was fairly simple – mutual respect and vigilance. All students are treated with respect by their teachers, and all students are expected to respect each other. Since the school is small, we are able to be vigilant and catch early signs of trouble. It never gets out of hand, and never escalates to the point where students are victimized. We have succeeded in creating a remarkable culture of respect."
A Smith School parent of a mentally disabled child points out another defining factor for the school, "The Smith School integrates all student types into single classrooms. This approach means that students with disabilities attend the same classes as those without disabilities. It means that the brightest students attend the same classes as those most challenged. This would be a recipe for disaster in a larger school, but the Smith School manages it by providing individualized assignments and additional tutoring when needed."
Another hallmark of the Smith School is the presence of a strong music program. In a time when other schools have cut back on the arts, the Smith School devotes a great deal of resources on music education. One parent comments, "My son is a gifted musician, but lacks interest in almost everything else. The Smith School customized my son's coursework so he takes music classes every day (during and after school) and the teachers adapt many of his assignments in other courses to incorporate his interest in music."
Looking to the future, Karen Smith remarks, "Despite our success in attracting new students, we plan on keeping the school small. This is a model that works for kids and their parents. Our future growth will be in continuing to add resources and facilities to better serve our students."
About the Smith School The Smith School is a small alternative private school located on New York City's Upper West Side. It is a coed, non-denominational school with a total enrolment of 50 students and rolling admissions. Interested parents can learn more about the school at smithschool.net or can call Karen Smith at (212) 879-6354.
###