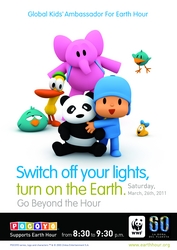 "We are tremendously honored to broaden our relationship with Earth Hour Global and the World Wildlife Fund by expanding Pocoyo's role to that of Global Kids' Ambassador for Earth Hour"
(PRWEB) March 1, 2011
Kicking off its global Earth Hour "Beyond the Hour" campaign, executives from Earth Hour Global, World Wildlife Fund and Zinkia Entertainment today announced that the beloved children's character, POCOYO, will serve as the campaign's first official Global Kids' Ambassador.
Following the adventures of Pocoyo, the award-winning animation series brings children into the bright world of an inquisitive and fun-loving boy and his animal friends, Elly (the elephant), Pato (the duck) and Loula (the dog). Packed with color, music and vibrant visual images, the series is both educational and entertaining. Encouraging kids to "Learn through Laughter," Pocoyo reaches children across the globe with a universe of values, including respect for planet earth! Recognized as a global brand, Pocoyo airs on television channels around the world, and the Pocoyo YouTube® channel has received more than 400 million hits worldwide!
As the newly appointed Global Kids' Ambassador for Earth Hour, Pocoyo is primed for his latest adventure—to raise environmental awareness among today's children. Empowering kids, their parents and caregivers to "turn off the lights" during Earth Hour—and to incorporate easy, environmentally sustainable actions "beyond the hour"—Pocoyo encourages kids to play a vital role in saving our planet! As today's children are tomorrow's guardians of our planet, their involvement and sense of responsibility is vital.
Through innovative animation content and online activities, Pocoyo will encourage children around the globe to get involved in the 2011 Earth Hour initiative on March 26, 2011. Children will be asked to turn off lights in their homes for one hour beginning at 8:30 pm (in their respective time zones) in what has become a worldwide collective display of peoples' commitment to protect the planet. Earth Hour activities can be found at http://www.pocoyo.com/earth_hour_2011.html.
In 2010, the Earth Hour message reached 1.3 billion and the event saw hundreds of millions of people switch off in more than 4,616 cities and towns in 128 countries.
Andy Ridley, Co-Founder and Executive Director of Earth Hour said, "Earth Hour has grown exponentially year on year since its inception in 2007. We have been overwhelmed by the power of individuals and communities to come together and send a powerful message by switching off the lights. Just imagine what we could achieve if we take this 'beyond the hour.' POCOYO's massive appeal with children worldwide will be a tremendous asset in growing Earth Hour 'beyond the hour.'"
"Pocoyo is about a young boy's discovery of the world around him, which makes it such a perfect fit with the objectives of Earth Hour and the World Wildlife Fund," explained Zinkia Entertainment Co-Founder and Chairman José María Castillejo. "Two years ago, Pocoyo started partnering with World Wildlife Fund International and the Earth Hour campaign in Spain. Through the development of innovative content delivered on a variety of media platforms--a strategy that has been at the core of Pocoyo's brand growth--Pocoyo encouraged hundreds of thousands of young children to not only turn out the lights for that one hour in March, but also provided them with easily comprehended tips on how they could continue to incorporate eco-friendly habits into their daily lives."
"We are tremendously honored to broaden our relationship with Earth Hour Global and the World Wildlife Fund by expanding Pocoyo's role to that of Global Kids' Ambassador for Earth Hour and look forward to working together on the creation of programs that deliver fun while creating lifelong habits of eco-friendliness that go 'beyond the hour'," continued Castillejo. "Teaching the importance of respecting and preserving our planet; of how simple choices affect people and animals the world over, and perhaps more importantly, teaching young fans how they can share these earth-friendly lifestyle practices with their whole family will be at the core of Pocoyo's new role for this important worldwide initiative. When children become the teachers, it has an incredible impact on parents."
Organizers are looking to extend the Earth Hour "Beyond the Hour," inspiring us all to include small changes in daily habits–taking the bus instead of a car or even riding a bike to work, for example--which will collectively benefit the planet and create a better future. The campaign will also leverage the power of social media as a means of engaging and inspiring eco-friendly changes in people's lifestyles around the globe.
About Pocoyo
Zinkia Entertainment's Pocoyo came to life first as an animated series through a co-production agreement with Carlton International (now ITV Studios).
The award-winning animated series, about a young boy's discovery of the world around him, represents a universe of core values that promotes a philosophy of curiosity, sincerity, interest, tolerance, respect and love. With these guiding principles, Pocoyo fosters "Learning through Laughter," utilizing a blend of humor and learning which mimics children's development to inspire and inform children about the world around them.
Pocoyo is visually very different to any other children's program. The innovative use of CGI animation allows Pocoyo to become a very real child-- he moves, talks, plays and learns like a toddler, and he can sulk and throw tantrums like only a toddler can! The 'parent' figure is voiced by writer/actor Stephen Fry (Alice in Wonderland, Bones) who guides Pocoyo with gentle humor as he explores the world around him.
Pocoyo has a strong educational content, but never sacrifices its entertainment value or sense of fun. The characters, storylines, sounds and visual appeal of Pocoyo have been carefully researched to ensure that it's perfectly tailored to encourage child development.
Today, Pocoyo is a signature property for Zinkia Entertainment, and one of Spain's most successful animation productions, with a potential global audience reach of 3.5 million. With more than 400 million hits on YouTube® and more than 27 million content downloads from the official Pocoyo website, the series, licensed in over 120 territories worldwide, is recognized as a global hit property. In addition to the successful TV series, the virtual world Pocoyoworld.com has attracted more than 11 million unique visitors, enabling children and care-givers to share a host of fun and educational activities with their favorite characters.
In the U.S., Pocoyo has gained a large following of young fans with episodes airing daily at 4:25 pm ET on Nick Jr., Nickelodeon's 24-hour commercial-free, educational preschool network, as well as airing on Univision, PBS and Discovery Familia. Additionally in the U.S., Bandai America launched a line of merchandise at Toys"R"Us in fall 2010, and NCircle Entertainment has released DVD titles. Internationally, Pocoyo airs on major international broadcaster outlets, including Televisa (Mexico), CITV and Five (UK), ABC (Australia), WowWow (Japan), Kika (Germany), Nick Junior (France), TVE (Spain), Disney Pan Asia, Treehouse (Canada) and Discovery Kids (Latin America). Pocoyo has attracted a host of international accolades including a prestigious BAFTA (British Academy of Film and Television Arts) for Best Animated Preschool Series, three Pucinella Prizes at Italy's Cartoons on the Bay Festival and Best TV Series at the Annecy International Animation Film Festival in France.
About Earth Hour:
Earth Hour is a global initiative in partnership with WWF. Individuals, businesses, governments and communities are invited to turn out their lights for one hour on Saturday March 26, 2011 at 8:30 PM to show their support for environmentally sustainable action. The event began in Sydney in 2007, when 2 million people switched off their lights. By 2010, Earth Hour had created history as the largest voluntary action ever witnessed with participation across 128 countries and every continent, including the world's most recognized man-made marvels and natural wonders in a landmark environmental action.
About World Wildlife Fund:
World Wildlife Fund is one of the world's largest and most respected independent conservation organizations, with almost five million supporters and a global network active in more than 100 countries. World Wildlife Fund's mission is to stop the degradation of the earth's natural environment and to build a future in which humans live in harmony with nature, by conserving the world's biological diversity, ensuring that the use of renewable natural resources is sustainable, and promoting the reduction of pollution and wasteful consumption.
About Zinkia Entertainment:
Specializing in the creation and management of distinct entertainment properties for today's global marketplace, Zinkia Entertainment, founded in 2001, is celebrating its tenth anniversary as a leader in the production of engaging content for all media platforms. Headquartered in Madrid, the company also operates offices in Peking, China and Mexico City, Mexico.
About ITV STUDIOS Global Entertainment
ITV STUDIOS Global Entertainment is one of the world's leading international TV distribution, home entertainment, merchandising and licensing businesses. ITV STUDIOS Global Entertainment proudly represents a world-class portfolio from ITV Studios, Granada and more than 200 leading independent producers. International rights for Pocoyo are handled by ITV STUDIOS Global Entertainment, excluding Spain, Portugal, Italy and Latin America which are handled by Zinkia. Exploitation rights for China are shared by both companies.
###