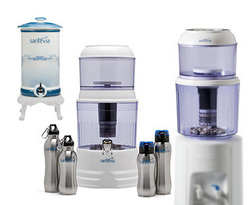 Affiliate partners play a vital role in our strategy for Canada
(PRWEB) March 3, 2011
Santevia Water Systems, a Division of Wellness Warehouse Inc. and supplier of revolutionary pH balanced alkaline water filtration products, today announced the launch of it's affiliate program in Canada.
"We can now offer our water filtration products to even more Canadians through the extended reach of an Affliate program." states Yvonne Anderson, Santevia's Co-Founder and Marketing Director. "Affiliate partners play a vital role in our strategy for Canada to ensure all Canadian markets have direct access to healthy Santevia water".
Santevia products have been successfully sold in North America through premium health food stores and the company's online store. The Santevia Water System revolutionizes tap water, creating pure, fresh tasting water that is healthier for you and more cost effective than bottled water. Using an eight stage filtration and re-mineralization system, the Santevia Water System cleans, mineralizes and invigorates your water while adjusting the pH level to mildly alkaline.
Santevia offers a number of water filtration products including countertop gravity systems, under counter Reverse Osmosis Systems and a number of convenient hand held energy flasks and travel sticks.
An affiliate can apply to participate in the program online. Upon approval by Santevia, the affiliate account is seeded with a $20 signing bonus and is fully enrolled in the program which earns a healthy 20% commission on each Santevia Products sold. Payout levels are set at $200 and will roll forward to next month if this minimum level is not met. Santevia handles all customer service and transactions including shipping, support and warranty support. Trusted third party tracking software by iDevDirect.com LLC ensures all affiliate sales and statistics are accurately reported and tracked. Affiliates are given a self managed control panel for tracking code, graphics, banners, content and links.
To join the Affiliate Program or to learn more about Santevia visit the company web site.
###