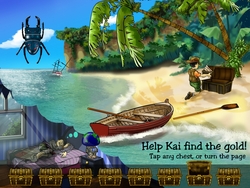 "Not only do moms give themselves the gift of guilt-free screen time, they get hundreds of books for the price of one inexpensive app. That's because in their hunt for gold, kids co-create a different story each time they read it." Author, Karen Robertson
Oak Park, IL (PRWEB) March 3, 2011
Busy moms on the go who are eyeing the new iPad 2 now have a guilt-free reason to take the iPad plunge: the first-of-its-kind book app that will engage, entertain, but most importantly, educate their kids during long trips in the car or downtime while they make dinner.
In "Treasure Kai & the Lost Gold of Shark Island," children directly interact with the iPad screen to shape and advance the adventurous plot. Clues in treasure chests light the way to exotic locations where children hunt for gold and get excited about reading. The breakthrough book for the iPad, iPhone and iPod Touch is available now on the Apple App Store here for just $4.99.
A mother and reviewer for Digital Storytime who gave the book high marks, Carisa Kluver, said "as much as I'd like to read to my child all the time, it is really nice to have a well-narrated book for him to enjoy while I make dinner or on car trips. Treasure Kai was so engaging in digital form that my son even insisted on reading it while I was writing reviews of several other books this week; Kai is a clear favorite!"
"Not only do moms give themselves the gift of guilt-free screen time, they get hundreds of books for the price of one inexpensive app," said author and creator of Treasure Kai, Karen Guinn Robertson "That's because children co-create a new story with the book each and every time they interact with it. In fact, it's nearly impossible for them to have the same experience twice."
Children can choose from two options, "read to me" and "self-read". The latter feature transforms the book into a game. The app is also seamlessly integrated with a dedicated website so kids can dive deeper into the experience. They can watch "Fun Fact Videos", peek behind the scenes to see how book apps are made and play the Treasure Kai video game, all for free.
Robertson conceived of the revolutionary new form of reading to inspire her dyslexic son and to spark his love of reading for fun. The vision for the book came to her in a dream and led to her winning the Gold Mom's Choice Award for the print edition of Treasure Kai and positioned her to take advantage of the mobile computing revolution.
About Treasure Bound Books
Located in Australia, Treasure Bound Books creates interactive book apps and companion online content for kids. The developer is committed to bringing children all over the world dynamic digital reading experiences that inspire a love for reading. To learn more, visit http://www.treasurekai.com.
###