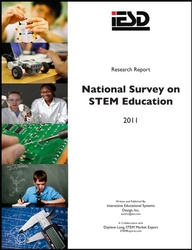 As we at Epson look for ways to bring vivid and engaging science content to students through Epson projectors and document cameras, it is crucial for us to understand the market needs of science educators, said Heather Litus-Johnston, product manager -
Beaverton, OR (PRWEB) March 3, 2011
IESD, Inc., in collaboration with K-12 STEM market expert Daylene Long, has released the 2011 National Survey on STEM Education research report that delves into the current state of STEM education in K-12 schools as it relates to funding, STEM courses offered, partners, technology and professional development.
Available for purchase at http://www.stemreports.com, the report details:
The latest market forecast for STEM education and where funding for new STEM initiatives is coming from.
The most popular STEM courses being offered in K12 and which courses are most likely to be offered in the next 1-3 years.
Administrators' opinions on companies and non-profits providing the best products and services for STEM education.
Administrators' views on the hottest technologies for STEM education.
The specific types of professional development STEM educators need or want in the upcoming year.
The National Survey on STEM Education provides marketers, developers, professional development providers and sellers of STEM products and services with detailed analysis of the survey findings and an executive summary that provides market overview. "This is the second year of the survey, so in addition to providing detailed data about STEM leaders' concerns and needs, we also look at last year's data and provide some comparisons," said Long. "STEM is a tough market niche to define. The data in this report gives companies a practical definition of STEM education by asking schools and districts what STEM courses they currently offer and, more importantly, what STEM courses they are likely to offer in the next 1-3 years."
The National Survey on STEM Education is a culmination of more than 400 responses from STEM leaders and educators across the country. Data in the report can help drive the development, marketing and partnering efforts of companies interested in STEM materials and services. "As we at Epson look for ways to bring vivid and engaging science content to students through Epson projectors and document cameras, it is crucial for us to understand the market needs of science educators," said Heather Litus-Johnston, product manager - Epson K12 Projection. "This STEM Report provides the detailed market analysis we need to make smart decisions in regards to development and marketing."
The 88-page report includes more than 250 detailed responses covering professional development opportunities. The report is available as a pdf download for an introductory price of $249.99. Volume use pricing is also available. Go to http://www.stemreports.com for more information.
About IESD
Interactive Educational Systems Design (IESD), Inc. provides a variety of services related to research and evaluation, marketing, and development of educational technology, multimedia products, websites, and print-based instructional programs. IESD was founded in 1984 by Ellen Bialo and Jay Sivin-Kachala, the firm's President and Vice President. IESD's clients include publishers of technology-based and print-based instructional products, technology hardware manufacturers, non-profit institutions, government agencies, and school districts.
About Daylene Long
Daylene Long is a member of the National Science Education Leadership Association and an affiliate member of the Council of State Science Supervisors. Ms. Long is the Chief Marketing Officer for Vernier Software & Technology and has 20 years of marketing experience. Ms. Long also independently consults on market strategy for the STEM education market.
###