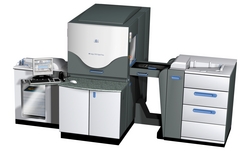 FAST...CHEAP...AND...GOOD. Doing All 3 of them. Visit PrintPapa.com
Santa Clara, CA (PRWEB) March 3, 2011
The HP Indigo 3550 is the latest generation of Digital Presses from HP. Introduced in Graph Expo in Sep 2010, the installation at PrintPapa is a milestone for HP as well, since it happens to be the very first machine of its kind in all of Northern California
The HP Indigo 3550 delivers exceptional offset quality and also offers state of the art color management, with HP Professional Pantone emulation and ICC profiles.
The press features:
-Production rates of 68 ppm color and 136 ppm in B&W
-Adjustment-free, minimum-touch paper handling
-An easy-to-use HP SmartStream Onboard Print Server as the Digital Front End
-Support for a wide substrate range, including specialty media and the ability to perfect up-to 16 pt cardstock or 130 lb cover.
The high reliability and versatility of the press makes it an ideal complement to PrintPapa's 4 color Presstek DI Offset press which is used to produce high end printed collaterals.
The new press will be used to produce the wide range of products that is currently offered by PrintPapa, from business cards, postcards, marketing collateral to specialized applications such as short run books, booklets, labels and more. The new press will also be used to print the recently launched line of photo products such as Photobooks, Photo Calendars, Photo Greeting Cards & Posters. Please visit http://www.PrintPapa.com for more information about our products and services.
###