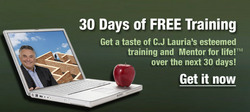 Success can be realized through some simple learned behaviors. As a result, anyone CAN achieve it if they apply themselves.
Sacramento, CA (PRWEB) March 3, 2011
The Tipping Point of Success, how can you find it ?
"The main focus of The Tipping Point of Success is to show how 23 entrepreneurs became successful and how you can too. It also demonstrates how creating a strategy for personal development and a commitment to lifelong learning will provide the skills and resources for achieving the success everyone desires. It's an easy to read book that anyone, at any level, can understand. This book's aim is to introduce proven strategies and methods for a successful business plan contained in my 23 interviews on personal and business success," says C.J. Lauria, author of The Tipping Point of Success.
This book is especially geared to new and experienced entrepreneurs and small business owners alike who seek superior results. In a society of the "those who don't know teach" approach, The Tipping Point of Success is a refreshing new look at the determining factor that made the difference in the actual successes of some impressively effective people. C.J. Lauria frankly interviews each of his 23 participants about their accomplishments as well as their fears. Interestingly, a common thread runs through all of these interviews as they comment candidly from the heart.
C.J. Lauria, Entrepreneur, Visionary, Speaker, Author, Investor, Real Estate Mentor and Founder of Invesdoor.com and Mentor for life!™, guides individuals to achieve success through a variety of means. His belief that personal development precedes professional advancement and his desire to help as many people accomplish that became the catalyst for his new book, "The Tipping Point of Success – containing 23 interviews highlighting how personal and business success can be achieved." See our video on http://www.youtube.com/watch?v=9fy9lU1yFEk.
This book gives compelling business strategies originating from beliefs and perceptions that encourage one to flourish both personally and professionally. Whether owning a start-up business or a FORTUNE 500 company, there is something here for everyone. Its real value is in breaking down certain learned behaviors which prove that anyone can win. Available now is a free download of this ebook for a limited time by visiting http://www.TippingPointofSuccess.com/PressRelease/.
Contact:
C.J. Lauria
888-380-INVEST(4683)
###