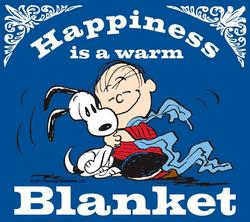 My dad had a gift for communicating the joy we can get from everyday moments in life, and 'Happiness is a warm blanket' is a concept that resonates with everyone.
(PRWEB) March 3, 2011
With "The Year of Happiness is…" well underway at http://www.facebook.com/snoopy, PEANUTS continues to show how many joyful experiences in life come from those small things that get too little attention—like warm blankets! "Happiness is a warm blanket" is a classic PEANUTS phrase that gets a whole new context this month, with the debut of the first original PEANUTS animated special in more than five years.
"My dad had a gift for communicating the joy we can get from everyday moments in life, and 'Happiness is a warm blanket' is a concept that resonates with everyone," says Craig Schulz, son of the late PEANUTS creator, Charles M. Schulz. "Who doesn't appreciate the feeling of warmth and security that comes with curling up with a warm blanket? That's what made it such a natural theme when we decided to create a new PEANUTS DVD: The emotions are true to the characters—and to my dad's spirit."
The all-new DVD is just one of the PEANUTS pleasures that will be bringing fans happiness in March:

Happiness is a new PEANUTS DVD. As the first animated PEANUTS special in five years to feature new, original content, "Happiness is a Warm Blanket, Charlie Brown" (from Warner Home Video) is a welcome arrival for PEANUTS fans worldwide. The special is based on Charles Schulz's comic strips, and stays true to the original look of the strip, while still venturing into novel territory. Craig Schulz was one the executive producers and writers of the film, Mark Mothersbaugh of Devo composed the score, and it was directed by animator Andy Beall ("Up," "Ratatouille") and Frank Molieri ("The Simpsons Movie," "SpongeBob SquarePants Movie").
In this heartwarming new tale, Linus is pushed to his limits when he learns his grandmother is coming to visit and plans to rid him of his most cherished possession: his beloved security blanket. As grandma's impending arrival looms on the horizon, the PEANUTS gang tries to find ways to help Linus lose his dependence on his fuzzy crutch.
Lucy is particularly eager to cure Linus' emotional attachment and applies her own psychiatric techniques. Charlie Brown, on the other hand, does his best to help, but just does not have the heart to see Linus suffer. Snoopy exacerbates matters because he longs to have the blanket for himself. In the end, insightful Linus points out that everyone has their own type of "security blanket," and that a little security is a valuable thing. Available at Amazon for $14.99.
Happiness is a trip to New York City. To celebrate the release of "Happiness is a Warm Blanket, Charlie Brown," and two succeeding PEANUTS DVD releases, Peanut Butter & Co., Warner Home Video, PEANUTS Worldwide, and Delta Vacations have teamed up to create the Happiness In NYC Sweepstakes.
Promotion for the sweepstakes will appear on Peanut Butter & Co. products throughout 2011, as well as in national print, online, direct response, and social media channels. There is no purchase necessary to enter the sweepstakes. For a complete set of rules and to enter, consumers can go to http://www.ilovepeanutbutter.com/happiness.
Happiness is reading along with Linus and Snoopy. Complementing the DVD are two new companion books, both featuring the hilarious storyline and original illustrations from the special, but aimed at different age groups:
In the picture book version, "Happiness Is a Warm Blanket, Charlie Brown" (Running Press Kids) combines the artwork from the special with a simple narrative to tell the tale of Linus and his cuddly blue blanket. Available at Amazon for $11.86, this is the perfect gift for any child.
In the graphic novel adaptation, "Happiness is a Warm Blanket, Charlie Brown" (KABOOM!), is an 80-page, lively, colorful spin through Schulz's imagination. Available at Walmart for $19.99, this is the very first PEANUTS graphic novel ever published.
Happiness is hanging out together. This Hallmark figurine depicting Linus, his beloved blanket, and his friend Snoopy is the perfect gift for family and friends who touch our lives in important ways. The warm sentiment tells it all and the figurine will become a lasting keepsake decoration. Available at Hallmark Stores nationwide for $24.95.
Happiness is a Snoopy-palooza! Throughout March, Wendy's will offer a wide variety of adorable Snoopy toys, activities and books along with their Kids' Meals: Snoopy Finger Football, a Design Your Own Snoopy figure, a How to Draw Snoopy & Friends art kit, Snoopy's Rock, Paper, Scissors game, "The World Famous Snoopys" book for the under-3 set and more.
The PEANUTS characters and related intellectual property are owned by Peanuts Worldwide LLC, a joint venture owned 80% by Iconix Brand Group, Inc. and 20% by members of the Charles M. Schulz family. Iconix Brand Group, Inc. owns, licenses and markets a growing portfolio of consumer brands including CANDIE'S (R), BONGO (R), BADGLEY MISCHKA (R), JOE BOXER (R), RAMPAGE (R), MUDD (R), LONDON FOG (R), MOSSIMO (R), OCEAN PACIFIC(R), DANSKIN (R), ROCA WEAR(R), CANNON (R), ROYAL VELVET (R), FIELDCREST (R), CHARISMA (R), STARTER (R) and WAVERLY (R). In addition, Iconix owns an interest in the ARTFUL DODGER (R), ED HARDY (R), ECKO (R), MARC ECKO (R), ZOO YORK (R), MATERIAL GIRL(TM), and PEANUTS brands. The Company licenses its brands to a network of leading retailers and manufacturers that touch every major segment of retail distribution from the luxury market to the mass market in both the U.S. and worldwide. Through its in-house business development, merchandising, advertising and public relations departments Iconix manages its brands to drive greater consumer awareness and equity.
Media Contact:
Alison Hill
714.444.9731, ext. 201
alison(at)currentpr(dot)com
# # #