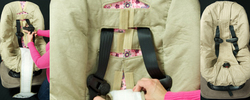 "There are two groups of parents–those who frequently remove and clean their car seats and those who may limit the cleaning to an occasional and quick vacuuming of crumbs. The S.A.F.E.R. Child Car Seat Cover provides another option," -- Stacey Friedland
Hockessin, DE (PRWEB) March 28, 2011
Safer Child Products, LLC recommends its S.A.F.E.R. Child Car Seat Cover as a cleaner solution to a "tired" yet not expired child car seat. With the recent alignment in child car seat safety recommendations between the American Academy of Pediatrics (AAP) and the National Highway Traffic Safety Administrations (NHTSA), child car seats are likely to be used for a longer period of time.
The Specially Designed, Patented And Award-Winning S.A.F.E.R. Child Car Seat Cover Provides Parents And Caregivers The Ability To Remove, Wash, And Return A Soiled Child Car Seat Cover From A Child Car Seat Without The Need To Remove The Complete Seat From Its Secure Position In The Vehicle.
According to Allen Friedland, MD, FACP, FAAP, "Child passenger safety is compromised when a child car seat is poorly installed. And while most parents and caregivers believe their child car seats are installed correctly, research shows that about seven out of 10 children are improperly restrained."
Safer Child Products, LLC believes that better education; resources for proper installation; and the S.A.F.E.R. Child Car Seat Cover will reduce that number.
"As a physician and as a parent, I educate new parents on the importance of vehicle safety. Today many police stations, fire companies, hospitals, and car dealerships provide assistance to parents in properly installing child car seats," adds Dr. Friedland.
"But spills and soils are inevitable with kids. And what happens when a car seat cover becomes dirty or covered in vomit? It needs to be washed."
Most child car seats require removal from their secure position in order to take off the cover, thus compromising a once secure child car seat. The S.A.F.E.R. Child Car Seat Cover, however, is easily placed over the original manufacturer's cover and removed without the need to unsecure the seat from the vehicle.
Besides keeping a newer car seat fresh and clean, the S.A.F.E.R. Child Car Seat Cover transforms a car seat for a new sibling – changing a "pink" girly cover to a neutral cover for a boy or a "tired" overly soiled cover to a cleaner one. It also provides a cleaner environment when traveling in a rental vehicle and is used to cover a rented child car seat.
Currently available in a single neutral color, the S.A.F.E.R. Child Car Seat Cover is available online at the company's website: http://www.saferchildproducts.com for $49.95 and includes shipping and handling within the United States.
Inquiries to carry the product in specialty and name-brand stores are welcomed
About Safer Child Products, LLC Safer Child Products, LLC was established by Allen Friedland, MD, FACP, FAAP and his wife, Stacey, MSSW, in their quest to identify and develop products that ensure the safety of their two daughters, as well as children throughout the world.
###