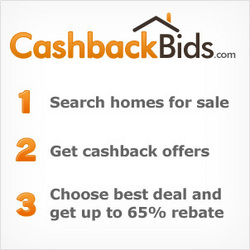 Empowering home buyers to get maximum value in a real estate transaction
Oakton, VA (PRWEB) March 17, 2011
The Case of Unclaimed Commission Rebate
When purchasing a property with the help of a buyer's agent, today's home buyers are still largely unaware of the fact that they are entitled to receive cashback at closing, and often times leave the unclaimed commission rebate money lying on the table.
Depending on the real estate transaction, cashback amount typically ranges between 1% and 2% of the buyer agent's commission. The buyer receives a check at or after closing and can use the commission rebate money anyway they see fit (e.g. help with closing costs, home renovation, vacation, etc.) For example, for a house selling at $450,000, a buyer can expect to get a commission rebate check up to $9,000, or 2% of buyer agent's commission. The exact commission rebate depends on the buyer's unique circumstances, including whether they already have a particular property (or several) in mind, purchase price and the buyer's financing status.
The New Approach in Home Search and Commission Rebate
CashbackBids.com today launched an enhanced version of the website providing the necessary tools for home buyers to not only find their dream home and a buyer agent to help negotiate the best price on the property, but also get commission rebate offers at the same time. Buyer agent and commission rebate services are always free for home buyers.
The 3 Easy Steps to Big Savings
CashbackBids.com makes finding the dream home for the buyer and getting cashback check in the buyer's pocket as easy as 1-2-3. Buyers search for homes in their desired location and find one or several properties they are interested in. Once the buyer locates their home(s), they have the ability to get commission rebate offers from their local Realtors. After reviewing available cashback offers, the buyer selects the best deal and gets help from the chosen real estate agent on negotiating the best price on the home. When choosing commission rebate offers, buyers are not obligated to work with any particular real estate agent and have an opportunity to interview the agent in person before signing a buyer representation agreement with the agent.
Benefits for Real Estate Agents
The key benefits for Realtors working with CashbackBids.com are exponentially lower client acquisition costs and time commitment required to close a deal. This is possible because the majority of CashbackBids' clients are home buyers who already found one or several properties they are interested in and are looking for an agent to help them negotiate the best price on the property and offer commission rebate once the real estate transaction is completed.
About CashbackBids.com
CashbackBids.com puts home buyers in control and offers and easy, free way to search for homes and get maximum commission rebate at closing.
Find homes for sale and get commission rebate offers from your local Realtors.
# # #