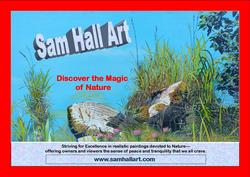 Hopefully, I can bring into peoples lives and homes a little of the stillness, peace, tranquillity and beauty of Nature that we all crave deep down in this hectic world,"
(PRWeb UK) March 3, 2011
Acclaimed British artist Sam Hall has launched a new brand logo and is now offering the chance to watch his paintings of Nature progress on an almost daily basis.
The artist specializes in photorealistic paintings of Nature and vignettes of Nature. Unusually, Hall is now posting his daily progress with each painting on the Internet.
"I paint in an unorthodox way," he says. "So far as I am concerned, there are no rules in Art, so I don't begin with an under-painting. I start in the top left hand corner and gradually work my way across and down the canvas or panel until I reach the bottom right hand corner and my monogram.
"For people who follow my blog or tweets, there is an obvious fascination as to how the painting will turn out – and it has proved a fantastic way to boost my sales."
Hall began painting when he retired in 2001. Since then he has held numerous exhibitions in London and other venues in England. He has been a finalist in several competitions and was recently asked to exhibit his paintings in a new passenger lounge at London, Heathrow airport – and to replicate one painting on a gigantic billboard seen by an estimated 180,000 people in central London.
"Having painted in various styles over the years, I finally decided to concentrate on paintings of Nature, which is a never ending source of material. Hopefully, I can bring into peoples lives and homes a little of the stillness, peace, tranquility and beauty of Nature that we all crave deep down in this hectic world," he says. "It was this decision that led to the creation of my new brand".
Inspired by such artists as J.F.Clauzel, Mischael Sass, Conrad Mieschke and William Hagerman, Hall's creative input begins when something catches his eye and he reaches for his camera.
"I then concentrate on the composition, perspective, balance and colour. Next I transfer the basic outlines to a canvas or panel using a grid system. However, I do not merely copy the reference photograph but make the painting my own through the use of colour and my own unique method of detailing, which involves thousands of tiny dots – and probably mean no-one will ever attempt to fake my paintings!
"So whereas you may initially see a broad landscape, the detailing, depth and perspective depict not only the beauty and grandeur of Nature, but also the tiny aspects of Nature that normally we fail to notice – the unique patterns of rocks and colours of lichens or the way wild flowers and weeds grow by the roadside, for example."
Hall's distinctive style of painting, intense palette and ability to evoke depth, space and spirituality bring a vibrant, magical touch to his paintings and express the deeper, eternal essence of Nature which gives his paintings 'soul'.
His work now hangs in private collections in the United Kingdom, Germany, Italy, Sweden and the United States.
For further information please contact
http://www.samhallart.com
http://www.samhallart.com/blog/
# # #