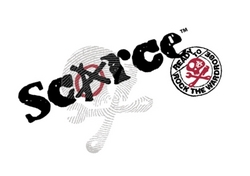 "HAUNTED BY HEROES really do embody what the SCARCE™ brand is all about.
New York, NY (PRWEB) March 2, 2011
Young boys apparel line SCARCE™ is quickly living up to its tag line "Ready to Rock the Wardrobe", signing on as the "Official Apparel Sponsor" to the talented group of ten year old musicians known as HAUNTED BY HEROES (H/H).
Topsville, Incorporated, the New York based children's apparel manufacturer, announced its endorsement deal between its SCARCE™ brand and the talented young musical group HAUNTED BY HEROES. SCARCE™, the edgy, rock inspired clothing line for young boys, sizes 2 to 20, launched in 2010 through such retailers as Sears and Macy's.
"The SCARCE™ line offers a fresh alternative to the young boys' marketplace, with designs inspired from music and incorporating a hint of extreme sports and technology," states Topsville's Founder and President, Mark Nitzberg. "It is a brand that is progressive, with attitude and innovative style, so it makes sense to be daring in our marketing of the brand."
The SCARCE™ collection was developed to fill a void in young boys' apparel world, featuring designs that that grab attention and make a statement. As the "Official Apparel" to the young rockers known as HAUNTED BY HEROES, that statement will have a real voice in the marketplace. In fact, five voices: Nick, playing the bass and vocals, Chris playing drums, Geddy on lead guitar, Charley playing rhythm guitar, and Brandon on the keyboards. Quite accurately, the boys have been deemed "The World's the Youngest Rock Band."
The five members of H/H met at the age of three, while attending daycare in the Northern California surf town of Pacifica. They began playing instruments at the age of seven, and by nine had graduated to center stage. The boys maybe small, but their sound is large, with influences for old school rock blended with their own original style.
Though only ten, the boys have held court with rock icon Gene Simmons, and have played venues ranging from Candlestick Park in San Francisco to the famous Whiskey A Go Go on Hollywood's Sunset Strip. Most recently, HAUNTED BY HEROES played at Los Angeles' Nokia Theater, where they were opening act to the International Children's Fund Gala.
SCARCE™ will launch a series of unique promotions and marketing programs focused around the band including music downloads with purchase, in-store appearances and even concert performances at selected retail partners. The band will also be the feature of SCARCE™ point of sales pieces located throughout retail locations where the brand is sold.
"We are proud to sponsor these talented youngsters. Their dedication to their music, to their families and to their fans is commendable, and their gift of music is nothing short of amazing!" Nitzberg continued. "The boys really do embody what SCARCE™ is all about."
For over 35 years, Topsville Incorporated has offered retailers a collection of children's fashions that extend to all product categories. From private label expertise to Topsville's own branded and licensed collections, retailers and consumers alike have come to know and trust Topsville product lines.
For information, please visit: http://www.scarceworld.com.
About Topsville, Incorporated: Topsville is an industry leader in the design and manufacture of private-label, branded, and licensed children's apparel for newborn through girls sizes 7-16 and boys sizes 8-20. For over 35 years, Topsville has been affiliated with high-quality, international private brands owned by key retailers such as Macy's, Walmart, Kmart, Sears, and JCPenney, and the driving force behind nationally recognized labels that include Faded Glory, Disney, Route 66, Arizona, and Greendog. Topsville is a division of Jaclyn, Incorporated, with offices in New York, NY and Miami, FL. http://www.topsvilleonline.com
About Jaclyn, Incorporated: Jaclyn, Inc. is a worldwide resource in the fashion industry, known for quality designing, manufacturing and marketing of private-label childrenswear, apparel and sleepwear for women and men, as well as premium incentives, handbags, and related accessories. Jaclyn's quality designs are sold to many of America's most respected department, specialty, and chain retailers. Jaclyn, Incorporated is headquartered in Maywood, NJ.
http://www.jaclyninc.com
About HAUNTED BY HEROES: HAUNTED BY HEROES, is a five member musical group based in Pacifica, CA. Comprised of five talented ten year old boys, the world's youngest rock band has already played noted venues ranging from San Francisco's Candlestick Park to the Whisky a Go Go in Los Angeles. Their first produced album, produced by multi platinum record producer Sylvia Massey, will be released independently in 2011. http://www.hauntedbyheroes.com
###