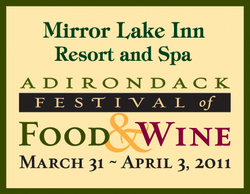 Taste and Flavor-Spice and Wine
Lake Placid, NY (PRWEB) March 3, 2011
The Mirror Lake Inn Resort and Spa is hosting the 6th Annual Adirondack Festival of Food & Wine, March 31-April 3, 2011. The popular 4-day Lake Placid event will feature wine tastings, culinary demonstrations, seminars, a cooking competition and a 7-course dinner prepared by the inn's Executive Chef, Jarrad Lang, along with his culinary team and visiting master chefs and vintners from around the country.
This year's food and wine festival features the theme "Elegant International Street Foods." The festival's menu and events are designed to reflect indigenous ingredients and culturally rich preparations of regional cuisines. Guest chefs will interpret various exciting, flavorful preparations fusing international delicacies with locally grown Adirondack meats and cheeses, all with a touch of Four-Diamond class.
Festival event itinerary includes:

An opening wine reception featuring a vast selection of wines from around the world and book signings by award winning chefs.
Guest Chef cooking demonstrations, wine seminars and tastings.
Interactive food demonstrations will include "Taste and Flavor-Spice and Wine," "The Streets of Bangkok," "New Orleans Gumbo," and "Smoke and Cure."
The Grand Tasting Reception, a walk around tasting where vintners and producers provide dozens of different wines and street foods from a variety of world locations.
The Ready-Set- Cook! Competition which pits the inn's culinary team against the talents of guest chefs.
A seven-course dinner paired with wines prepared by guest chefs and the inn's culinary team.
During the four-day food & wine festival guests will have the opportunity to meet and mingle with world-renowned winemakers, chefs, oenologists, fellow food enthusiasts, and special guest Kevin Zraly.
Zraly is a distinguished wine educator, author, and founder of the illustrious Windows on the World Wine School. Acclaimed as the creator of the famous wine list at Windows on the World (which sold more wine than any restaurant in the United States), he has been teaching wine for over 30 years and has studied wine-making techniques in California and all the great wine regions of Europe.
Festival attendees will also learn tips and techniques for incorporating local, regional and seasonal ingredients and they will head for home with a file of recipes for their personal use. The Mirror Lake Inn's culinary team is committed to sustainability with a focus on foods from the regional community. The team works closely with agriculturists throughout the Adirondacks to ensure that the Lake Placid restaurant acquires the best in fresh and natural foods.
To attend the festival, guests can purchase a lodging package which includes 2 or 3 nights of luxurious accommodations and entry into food and wine events (taxes and gratuities are additional).
For more information about the Mirror Lake Inn visit mirrorlakeinn.com.
###