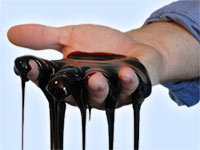 DuraClean FG is the solution that a lot of our customers have been looking for...
Lewiston, NY (PRWEB) March 9, 2011
Duratherm Extended Life Fluids today announced the release of DuraClean FG, the only heat transfer system cleaner in the industry that's safe to use in food-grade applications.
Until now, cleaning heat transfer systems in the food industry meant taking machinery apart and cleaning parts by hand. With the development of DuraClean FG, companies can now run a food safe cleaner through the system while it's running production.
"We've worked hard over the years to advance the technology behind food grade heat transfer fluids, but there was still a void when it came to maintenance. DuraClean FG is the solution that a lot of our customers have been looking for, and we're proud to offer the industry's only food grade heat transfer system cleaner," said Michael Bates, Duratherm's Technical Services Manager.
DuraClean FG represents a major advancement for food processing and related industries. It safely cleans heat transfer systems used for cooking and deep frying, as well as blow molding of food and beverage containers, injection molding of utensils and trays. It can also can be used in pharmaceutical manufacturing and in the medical industry for medical tubing and related supplies.
"Our customers are always looking for ways to cut downtime and reduce maintenance costs. This is particularly true in the food industry where the extra care that's needed meant a lot more downtime. Duratherm FG all but eliminates that problem," Bates added.
DuraClean FG system cleaner is the latest addition to Duratherm's growing line of food-grade safe products. Like many of Duratherm's cleaners, it's a dual purpose solution. DuraClean FG functions as a heat transfer fluid and a cleaner that dissolves sludge and fouling from heat transfer systems while they run production. This reduces the need for costly downtime, an advantage that only Duratherm offers.
The new formulation is capable of running in systems up to 550°F. It's odorless and easily handles long-term operation while seamlessly allowing production to continue uninterrupted for a complete oil cycle.
Duratherm has been servicing the heat transfer fluid industry worldwide for over 25 years. They specialize in quality, effective and innovative products ranging from heat transfer fluid and related products, to thermal oils, thermic fluids and specialized lubricants. Working closely with equipment manufacturers and their customers, they have an intimate and unrivaled understanding of real world concerns for heat transfer fluids.
###