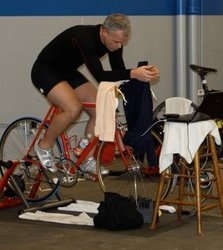 His Jet City teammates nicknamed him Bionic Dave.
Seattle, WA (PRWEB) March 3, 2011
Seattle-based triathlon team Jet City Tri and three of its members are big winners in the USA Triathlon's (USAT) National Challenge Competition (NCC). Competing against 84 teams and more than 2,200 athletes all logging swim, bike and run miles for a period of ninety days, Jet City bagged a total of five out of eight of the top individual awards and top honors for its division.
Jet City team member David Bowne was the overall champion and winner of the individual bike competition. Teammate Kathleen Brush took second overall and along with another Jet Cityer, Hunter McClean, grabbed top honors in the individual run competition. Bowne and Brush, both fifty-four, took special pride in showing that boomer athletes can still compete and win against generations X and Y.
The NCC is a grueling three month contest that represents a daunting challenge for athletes of any age, but the numbers the Jet City trio put up, and especially those of the 50-somethings, were unheard of. The two older athletes clocked so many miles that other contestants questioned the veracity of the numbers. When Bowne won the bike competition, the USAT held off on announcing his win while they conferred with their experts to see if it was possible for him to have ridden so far. They should have just asked Bowne, because his miles had all been electronically recorded.
In Brush's case, mid-course rule changes by the USAT cost her nearly 1,700 legitimately earned miles, but she still managed to hang on to the women's first place finish.
Bowne, who logged over 10,000 miles during The Challenge, entered the competition not knowing if he could compete. Seven years ago he had a spinal cord stimulator implanted and was advised to keep exercise to short walks. More recently Bowne lost his 20 year old son. Following this tragedy he sought the peace that can come from working out. But, working out and what Bowne did during this competition are two different things. At one point Bowne logged 406 miles in a twenty-four hour period. His Jet City teammates nicknamed him "Bionic Dave."
Rather than being tired after the event, Bowne said, "I feel great for the first time in years. It is so great to know that I can not only work out again; I can actually compete on a national level."
Asked about some of the negative comments his road to the win had generated Bowne said, "I found the unkind comments made by some in the USAT's Forum encouraging. That a competitor thought it was impossible to log this number of miles motivated me to go further. It also helped when one forum commenter said that he couldn't even find Kathleen or me in an online database of athletes. He didn't realize that we had earned our stripes as competitive athletes more than a decade before the Internet hit its stride."
Bowne and Brush were talked into the contest by fellow team member, David Bianchi, VP of sales and marketing for the team's sponsor, B&G Machine of Seattle. Brush quit competing nearly twenty years ago because she had been plagued by injuries. When friends tried to convince her to at least participate in some competitions for fun, she said she thought fun and competing was an oxymoron. But a week into the 90-day long challenge she was surprised to find herself in the top five and her competitive juices started flowing again. Later, when a male competitor questioned how a woman could be logging so many miles she redoubled her efforts. It was no longer just a desire to prove that age was not a deterrent in endurance competitions, she was also motivated by a sexist competitor.
"The NCC should have been a great experience, but when the USAT changed the rules of The Challenge two months after it began that really took away from the experience," Brush said. "Maybe I should feel flattered that some competitors were so threatened by a fifty-four year old woman that they felt like they had to lobby for a rule change to slow me down."
USAT flip flopping aside, should not take away from the commendable performances of all of the members of Jet City Tri and the pride Seattle should take in its athletes.
Jet Ciy's sponsor Seattle-based B&G Machine (http://www.bandgmachine.com) a global leader in diesel engine rebuilding and component machining. They service customers in mining, marine, oil and gas and power generation.
###