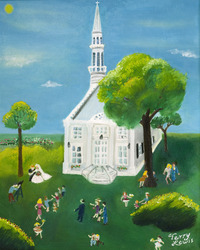 New York, NY (PRWEB) March 9, 2011
Terry Lewis's latest innovative art technique merges video and oil paints, creating a new sense of life and movement in the scene. Terry's goal is to make the viewer more of a participant in the scene by incorporating motion and sound. She will be creating a series of paintings that will encompass a 180-degree wide-angle view of the location, giving the viewer the sense that they are a part of the scene.
Terry's first videopainting idea was conceived at the beach in East Hampton, NY, when she watched the beauty of the water surging onto the shore. Quick to put her idea together, she immediately combined the video of the water with her famous painting of Cannons on the Beach which depicts Comp Beach, Westport, CT. To view an example of the videopainting, click here.
The next videopainting will be submitted to an art show to benefit The Retreat, an organization that supports victims of domestic violence. This particular piece allows the viewer to imagine being in the scene on a warm summer night, watching fireworks by the Grucci family at the Girls & Boys Harbor in East Hampton, NY.
Terry is no stranger to success. She has 27 years of experience painting original scenes for celebrities and charitable events, including Alec Baldwin; Bill Clinton; Larry Silverstein; Victor Neiderhoffer, George Soro's former associate; the Michael Bolton Foundation; Woody Guthrie's manager, Nathan Levanthal; and Hans Wilhelm, an internationally acclaimed children's author/illustrator.
Alec Baldwin, winner of Golden Globes for his role in the hit TV show 30 Rock, found Terry's art capturing the moment of ice-skating at Rockefeller Center under the Christmas tree perfect for his own personal holiday cards. Afterward he bought the painting and the copyright to reproduce the image.
As summer nears closer, Terry looks forward to working on new paintings for the season; specifically pieces depicting two of her favorite scenes, weddings and fireworks.
Woody Guthrie's manager, Nathan Levanthal, commissioned Terry to paint his daughter's outdoor wedding on the Long Island Sound with boats to commemorate her wedding day. He wanted to give her an everlasting memory of her special day.
Victor Niederhoffer, respected hedge fund manager and owner of Daily Speculations, saw in Terry's work of a 4th of July parade in Westport, CT the excitement and pride of being American. Terry's artwork does depict all that is classified as Americana.
In addition, Terry will be featured in an upcoming column appearing in the Art Business News edition for Art Expo NY, happening on March 25 – 27. Her art will also appear in their digital magazine at http://www.artbusinessnews.com.
Terry's newest videopaintings can viewed on her website; http://www.terrylewisart.com and Terry can be contacted by email at artloverstoo(at)yahoo(dot)com or by calling 646-932-4136.
# # #