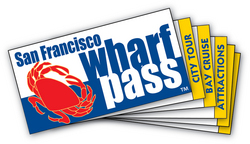 "We've been offering WharfPass since 2007 and it just keeps getting better each year" -Brian Huber, President, WharfPass
(PRWEB) March 4, 2011
WharfPass announced today the launch of a new and improved Fisherman's WharfPass for sightseeing tours, bay cruises, and attractions at San Francisco's Fisherman's Wharf.
"We've been offering WharfPass since 2008 and it just keeps getting better each year," said Brian Huber, President, "It's an incredible value, especially for families looking to save money when they travel."
New this year, WharfPass delivers additional activities and discounts including Open Top Sightseeing WharfPass Exclusive 90-Minute Full City Tour, Gray Line Sky-View Full City Tour, Classic Cable Car City Tour, and the return of Ripley's Believe It or Not! Museum.
At $67 for adults and $41 for children, this two-day pass is the only visitor program that includes 20 of Fisherman's Wharf's major attractions. Visitors have six choices from the attractions they like best and may visit them over the course of two days.
"There are now seven transportation touring choices for visitors," explained Huber, who added that in previous years, there were four. "Best of all, multiple language narration is now available on the bay cruises and the new Open Top sightseeing tour. This is great news for the city's international visitors."
Much more than a ticket to everything worth seeing at Fisherman's Wharf, this year's WharfPass provides a whopping 47 additional discounts, as well. Pass holders eat for less at some of San Francisco's most memorable restaurants, save money when they shop at selected stores, venture and save on a sport-fishing excursion, and enjoy even more tours at very special prices.
The 20 tours, cruises, and attractions available with the WharfPass include the visitor's choice of:
SAN FRANCISCO SIGHTSEEING TOURS
CitySightseeing Hop-On Hop-Off Open Top Double Decker Tour (Downtown Loop - 2 Day Pass) OR Super Sightseeing Tours Hop On Hop Off Full City Tour (City Tour - 1 Day Pass) OR Gray Line San Francisco Trolley Hop Tour OR Gray Line San Francisco Sky-View Tour OR Open Top Sightseeing Full City Tour (90 Minute Tour) OR Ride The Ducks Land and Sea Tour OR Classic Cable Car City Tour.
SAN FRANCISCO BAY CRUISES
Red and White Fleet Golden Gate Bay Cruise OR a Blue & Gold Fleet Bay Cruise Adventure.
ONE OF THESE WHARF ATTRACTIONS AND ACTIVITIES

Activity Option No. 1: Two Hour Bike Rental OR 1/2 Hour GoCar Rental OR Ride The world famous Cable Car
Attraction Option No. 2: Wax Museum OR SS Jeremiah O'Brien OR TurboRide 4D
Attraction Option No. 3: Aquarium of The Bay OR Ripley's Believe It or Not! Museum OR USS Pampanito Submarine
Activity Option No. 4: Boudin Sourdough Bakery Museum and Tour OR Players Arcade Tokens.
WharfPass can be purchased online at http://www.WharfPass.com or from participating attractions, visitors' centers, and retail outlets throughout San Francisco and Fisherman's Wharf.
Additional Wharf attraction details, logos, and images for press use can be found online at http://wharfpass.com/tours/wharf/press.html
Alcatraz Cruises, LLC is an authorized Concessioner of the National Park Service, Department of the Interior
General Information and Reservations: 415-440-4474
Marketing & Sales: 415-692-0927 or alex@wharfpass.com
About WharfPass and The Electric Tour Company
For over 19 years, our family-owned and operated tour and travel publication businesses have promoted the notion that no town in the world is as much fun as San Francisco.
WharfPass
165 Jefferson Street Suite 2F
San Francisco, CA 94133-1201
General Information and Reservations: 415-440-4474
###