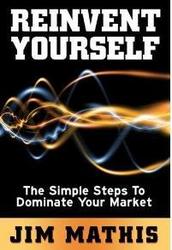 "The economy is not down, it's different." Jim Mathis, CSP
Phoenix, AZ (PRWEB) March 10, 2011
In 2008 people were just beginning to feel the effects of the worst recession to hit the world since the Great Depression. Jim Mathis, President of The Mathis Group, found himself like a lot of other people, reeling in disbelief as their incomes either shrunk or disappeared.
The recession was an eye-opener to Mathis. "I realized that the economy wasn't down, it was different." He saw that he had to reinvent himself in order to adapt to a changing economy. And with that, the Reinvention Nation™, a community of leaders who want to reinvent themselves in a new and different world of business was born. Mathis' new book, "Reinvent Yourself- the Simple Steps to Dominate Your Market," is their guide to do it.
Mathis writes, "Every day we are confronted with the changes that have taken place. We are in a different environment than just two years ago. If people and companies don't reinvent themselves now, they could soon become extinct!"
"Reinvent Yourself" isn't an average business book. It's different.
It is not designed to make business leaders feel comfortable. Its purpose is to help them take a hard look at the world and their environment so they can make some un-comfortable decisions.
Reinvent Yourself is about how business leaders can adjust successfully in a world of higher expectations and constant change. It's about how both companies and individuals are rediscovering their roots and reinventing themselves for the new global market.
Readers will discover:

When to reinvent themselves
3 actions leaders must take when they hit "The Wall"
10 key qualities that reinvention strategists possess
What business leaders can learn from people like Lady Gaga about reinvention
Reinvention strategies for business culture, sales, and branding.
In each chapter, Mathis offers simple and personalized Easy Action Steps that produce immediate results.
The book releases May 1, 2011. Press materials and review copies are available upon request.
Purchase the book from Amazon.com on May 3, 2011, and receive The Reinvention Kit, (a $200 value) for free.
About the Author:
Jim Mathis is the Reinvention Strategist and "Chief Irritation Officer" of Reinvention Nation™ a community dedicated to everything reinvention in a new and different economy.
He is an international Certified Speaking Professional, author and founder of The Mathis Group, a Southeastern-based consultant group providing products and services that drive market leadership.
Mathis works across industry lines to use common-sense approaches to solving the challenges that companies and organizations face in the new world of work. His delivery style has you laughing one minute, writing down a thought the next and thinking your way out of the room. He is both humorous and provocative. His style is anything but dull and boring! For more information go to http://www.JimMathis.com.
###