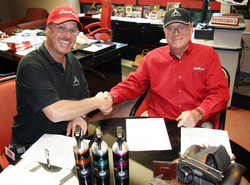 "I'm pleased and excited to endorse AERO as the official Edelbrock car care line," said Vic Edelbrock Jr., CEO and President of Edelbrock LLC
Bellflower, CA (PRWEB) March 2, 2011
International AERO Products today announced that its line of car care products has been endorsed by Vic Edelbrock, Jr., and Edelbrock LLC, one of the most legendary and revered performance part manufacturers in the automotive aftermarket. This strategic partnership makes AERO the official surface care company for Edelbrock and Edelbrock racing.
International AERO Products will be used to detail all Edelbrock vehicles, including its mobile displays seen at car shows around the country, Edelbrock's R&D vehicles, Vic Edelbrock Jr.'s personal cars and the vintage sports cars on the Edelbrock race team. Every Edelbrock transporter will also carry International AERO Products.
"I'm pleased and excited to endorse AERO as the official Edelbrock car care line," said Vic Edelbrock Jr., CEO and President of Edelbrock LLC. "Every vehicle we own - from our transporters to our race cars and my personal daily driver - has to be spotless. It's part of our mission to be the absolute best in the business. After using the AERO products we were thrilled with the quality: from the formulas to the packaging and the fact that they're made here in the USA, they represent all the same core values that Edelbrock has stood for since 1938. With that in mind I'm proud to put my name on every bottle and look forward to helping AERO show enthusiasts how good car care products can be."
International Aero - one of the world's largest private aircraft detailing companies - has been detailing jet fleets for Corporate, VIP, and Head of State flight departments for nearly 30 years at locations around the world. Now the same products that AERO developed to detail the fastest and most expensive aircraft in the world are available for your car. The Edelbrock endorsement came about after the seminal performance parts manufacturer tested AERO products on its in-house racecars and R&D vehicles. The results were astounding, and now every bottle of AERO will wear the famous red Edelbrock badge.
"We are thrilled to be working with Vic and the Edelbrock team," said AERO founder Jonathan Saltman. "We are very proud of our new line of car care products, but to have Vic Edelbrock use them on his own cars and give them his stamp of approval is a tremendous endorsement, this is a man who has built a career on delivering high-quality products that deliver on their promise, and we run AERO the same way. On a personal note, I have been using Edelbrock parts for years on my hot rods, so it has been a personal thrill as well."
International Aero Products will be mobilizing consumer marketing teams all over of the country that will visit car shows, auto stores, and car clubs. The teams will also plan special events and product demonstrations. All of the AERO vehicles will feature Edelbrock branding, and Edelbrock trucks will stock AERO product at shows and events.
About Edelbrock:
Founded in 1938, Torrance-based Edelbrock, LLC is recognized as one of the nation's premier designers, manufacturers and distributors of performance replacement parts for the automotive and motorcycle aftermarkets. Edelbrock produces its core products in the United States of America using state-of-the-art equipment in its world class manufacturing facilities. Edelbrock, LLC encompasses six locations in Southern California totaling more than 500,000 square feet. For more information please visit http://www.edelbrock.com
About International Aero Products:
AERO products have been designed to withstand the most extreme environments on earth. From airfield surface temperatures that can reach 120 F to a frigid -60 F at 50,000 feet above the earth. Until now, AERO products have only been available to the aerospace industry for maintaining the world's most exclusive aircraft. We offer a wide selection of quality tested and approved cleaning, polishing, protective coating and detailing products for all of your vehicle's maintenance needs. Call us today for a sales representative in your region, (800) 337-WASH or go to InternationalAeroProducts.com.
###