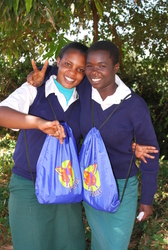 New York, NY (PRWEB) March 3, 2011
Many schoolgirls from poor families stay home up to five days each month when they have their period, according to a recent study by Oxford University scientists conducted in rural Ghana. Given the choice of purchasing food to feed their families or disposable pads for their daughters to attend school, many parents choose the former. Huru International is addressing this problem by providing reusable sanitary pads at no cost to schoolgirls so they may take advantage of the educational opportunities available to them.
Huru International will supply two girls with Huru Kits for every $25 donation made through March 15th. Each Huru Kit comes packaged in a drawstring backpack, and includes: eight reusable sanitary pads; three pairs of underwear; detergent-grade soap for washing pads; and educational materials focused on HIV/AIDS prevention.
"Huru Kits have been distributed to 15,000 impoverished girls throughout Kenya", said Lorna Macleod, Executive Director. Program evaluations show that the percentage of kit recipients who regularly missed school as a consequence of their periods fell from 72% to 3%.
In the words of Maurine, one of Huru's 15,000 beneficiaries, "Now I am not worried because I am armed with my Huru Kit." Maurine lives in Kakuyuni, a small village in Kenya. She previously opted to miss school rather than use bits of mattress to manage her period. Empowered with the Huru Kit, Maurine no longer stays home.
In honor of International Women's Day, every donation of a Huru Kit will be matched (2-for-1). A contribution of $25 will put a Huru Kit in two girls' hands. Details on http://www.HuruInternational.org.
About Huru
Huru, a 501©3 nonprofit organization, was founded in 2008 by Lorna Macleod to manufacture reusable sanitary pads for distribution to impoverished school girls, enabling them to attend school throughout their menstrual period. Major partners include the U.S. President's Emergency Plan for AIDS Relief, Elton John Aids Foundation, Johnson & Johnson, Micato Safaris, Sunflag, AmericaShare and Warner Brothers.
###