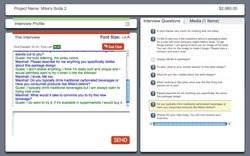 Who ever thought that something as mundane and expensive as market research could be affordable and cool?
Palm Springs, CA and Denver, CO (PRWEB) March 3, 2011
GutCheck yesterday took the top prize at DEMO Spring 2011, where they formally launched their platform to bring companies of any size all the benefits of focus groups, instantly, and without the cost and hassle.
Attendees and judges voted GutCheck's "do-it-yourself focus groups" as the best presentation at DEMO, among 51 other companies who also were chosen to launch at the two-day conference.
"This was completely unexpected and we are humbled, but it makes sense," said Matt Warta, GutCheck co-founder and CEO. "Many of the companies here at DEMO can use the very platform that we offer. GutCheck allows organizations of any size, from bootstrapping startups to bigger companies, to find and gain insight from their target users and customers instantly, at a sliver of the cost and effort of traditional focus groups. Essentially, it's P&G-caliber market research on a PB&J budget.
"Who ever thought," Warta added, "that something as mundane and expensive as market research could be affordable and cool? But that's what we do."
Specifically, GutCheck takes the long, tedious, and expensive process of organizing focus groups and simplifies it by putting it all online. At the heart of GutCheck's technology is its recruitment engine, which can sort through 5 million research participants, with professional-grade search parameters in a matter of moments, to find exactly the right target user to be interviewed, right then, right there. This service costs $40 per chat instead of the usual $400-1000 per person for traditional focus groups.
GutCheck will receive $1 million worth of free advertising in IDG publications to further fuel their launch. IDG is producer of the DEMO conferences.
More details on GutCheck can easily be found at their web site, and signup is now open to the public.
About GutCheck:
GutCheck was born out of the idea that everyone can use a little consumer feedback now and again. Founded in 2009 with a goal to provide qualitative research to anyone, not just those with big budgets, resources and extended time lines, GutCheck is a pioneering company in do-it-yourself, online qualitative research providing a quick and affordable solution that delivers quality insights direct from identified target market consumers to answer questions related to advertising creative, marketing messaging, product development and customer segmentation. The company has received $2M in a Series A round of funding and has 5 employees in their Denver, Colorado location. For press inquiries, please visit: http://www.gutcheckit.com/launch.
Contact:
Merredith Branscombe
LEAP! Public Relations
720-235-7363 | merredith(at)leappr(dot)com
###