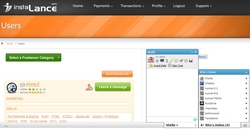 Project management including time management and being able to chat in real time are the main points we're driving forward. Employers can create an account in minutes, log in, search, chat, award, finalise work and transfer money instantly. It's that easy
(PRWEB) March 8, 2011
Being able to chat live with freelancers while awarding work and getting answers to any number of burning questions is one of its key bonus features, and some would say this kind of thing is every project manager's dream.
Having the option to select any freelancer from anywhere in the world, no matter what the time zone, is like having someone work for you in your own office, except you could be thousands of miles apart.
And so InstaLance was built with both the employer and provider in mind to (a) allow companies to keep on top of any work progress and (b) allow freelancers to find work which might otherwise be a struggle. And there are plenty of businesses that are always looking for reliable professionals for a wide variety of projects.
For companies who need the reliability, accessibility and real time communication that Raja from InstaLance sees is of vital importance in today's freelancing industry, InstaLance might just have it all.
In an industry where uncertainty, miscommunication, lack of accessibility and crossed wires are common, it is a timely announcement by Infowick, creators of InstaLance. It's just as much a live software device which rapidly connects freelancer and employer as it is an outsourcing website portal where both freelancers and employers can just "log in" and "click" to get the job done.
And there are 200+ categories for employers to choose from including Web Design, Graphic Design and SEO.
"Project management including time management and being able to chat in real time are the main points we're driving forward. Employers can create an account in minutes, log in, search, chat, award, finalise work and transfer money instantly. It's that easy." Raja .... comments from his office in Hyderabad, India.
It is clear that InstaLance are filling a wide gap in the market as companies move into a new way of doing business globally, and they are already making waves in the outsourcing arena, catching the interest of the industry's most successful freelancers and smartest business owners from around the world.
And it is taking the industry by surprise.
Even a quick chat or consultation is possible and payable through InstaLance using a "pay per minute" option. This is beneficial for an employer who might just need 10 minutes of work, and this can be common for small web development jobs.
"Everyday we're attracting both employers and freelancers alike, and we hope to grow to be able to service 1 million of each by this time next year."
One million of both provider and employer although a big task, is achievable given the high demands of business owners and the quick footed ability of freelancers.
The one certainty is that head hunting or outsourcing, however you term it, will never be the same again.
For more information or to speak with the press contact at http://www.InstaLance.com please email press(at)instalance(dot)com or call +91-8978055459.
# # #