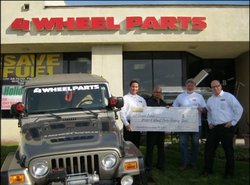 Compton, CA (PRWEB) March 4, 2011
Congratulations to Ed Baker, the winner of the Truck & Jeep Fest $1000 Shopping Spree Raffle held by 4 Wheel Parts, America's largest distributor of off-road parts and aftermarket parts for Jeeps, trucks, and SUVs. Ed Baker, from Thousand Oaks, California, was chosen by raffle at 2010's last Truck & Jeep Fest sales event.
From February to August 2011, 4 Wheel Parts will have a minimum of one Truck & Jeep Fest sales event each month. Special sales and amazing show pricing will be available at event locations, online at 4WheelParts.com, and also at more than 50 4 Wheel Parts stores throughout the United States.
Truck & Jeep Fest is a free admission event. Attendees can experience over 100,000 square feet of custom trucks and Jeeps on display. Manufacturers will be on-site with product demonstrations and over $100,000 in inventory. Attendees can expect to find some of the lowest prices of the year with factory direct pricing, hourly promotional pricing, and up to 50% off installations. There will be hourly giveaways and some attendees will win free prizes.
2011 Truck & Jeep Fest Events:
Feb 26-27 San Mateo, CA San Mateo Expo Center
Mar 12-13 Oahu, HI Blaisdell Center
Apr 9-10 Puyallup, WA Puyallup Fair & Events Center
May 14-15 Dallas, TX Dallas Market Hall
May 21-22 Houston, TX Reliant Center
Jun 4-5 Atlanta, GA Atlanta Cobb Galleria
Jun 18-19 Ontario, CA Ontario Convention Center
Jul 9-10 Denver, CO Denver Merchandise Mart
Aug 20-21 Orlando, FL Orlando Orange County Center
In addition to the discounts and prizes provided at Truck & Jeep Fest events across the nation, 4 Wheel Parts enjoys giving back to customers online at 4WheelParts.com and through social media sites such as Facebook, Twitter, YouTube, and blogs such as 4WheelPartsBlog.com and Team4WheelParts.com. The 4 Wheel Parts Facebook page is a great place to meet other Jeep and truck off road enthusiasts and share the latest upgrades, purchases, and off road experiences.
On January 15th, the final winner will be chosen in the 4 Wheel Parts Facebook Dream Upgrade Contest. Starting on October 15th and continuing for three months, 4 Wheel Parts asked their Facebook fans to post pictures of their vehicles along with their #1 upgrade wish and why they deserve to win. Winners are chosen at random and win a $500 4 Wheel Parts Gift Card.
4 Wheel Parts offers competitive pricing on all shocks, lift kits, steering stabilizers, winches, and other off-road Jeep and truck parts. To get more information, call 877-885-6474 or visit 4WheelParts.com. To find a 2011 Truck & Jeep Fest event near you, visit 4WheelParts.com/Truckfest.
About 4 Wheel Parts: 4 Wheel Parts is currently celebrating 50 years in business. 4 Wheel Parts is the premier company of Transamerican Auto Parts for Jeep, truck, and SUV aftermarket parts and accessories. Through the 4 Wheel Parts retail sector, Transamerican Auto Parts offers over $30 million in inventory. This allows Transamerican Auto Parts to provide rock-bottom pricing on everything from tonneau covers to winches to lift kits to ATV tires and more, all stocked at one of over 50 retail locations.
# # #