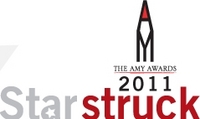 Our Information Security Executive™ (ISE™) Programs are...patronized by a national audience of thousands of IT executives and sponsor companies.
Atlanta, GA (PRWEB) March 4, 2011
T.E.N.'s Information Security Executive (ISE™) of the Year Awards Program has been selected as one of three finalists for the American Marketing Association (AMA) Atlanta's 2011 AMY Awards. The ISE™ Program is a finalist in the Event Marketing: Event Over $100K category. Winners will be announced at the 2011 AMY Awards on Thursday, March 24, 2011 at the Fox Theater, Atlanta, Georgia.
The AMY Awards are presented to corporation and agency marketers in Georgia that have taken ordinary situations and products and made them extraordinary through concept to execution. According to the AMA Atlanta's website, "For 54 years, the AMY's have celebrated more than just great creative — we've rewarded companies that crafted innovative strategies, unforgettable creative and produced outstanding results." Tickets and details for the event can be found at http://www.amyawardsatl.com.
"The T.E.N. team is pleased to be recognized as a finalist for the 2011 AMY Award. Our Information Security Executive™ (ISE™) Programs are not only landmark events for information security executives to attend, but also ones that we apply our best marketing practices for, and patronized by a national audience of thousands of IT executives and sponsor companies," said Marci McCarthy, CEO and president, T.E.N.
According to a survey given by T.E.N. to its ISE™ alumni participants and award recipients, the Information Security Executive™ (ISE™) Program Series events will be the third most attended programs for IT Security Executives in 2011. Results indicated the ISE Program Series would be on their list to attend after the RSA® Conference (first) and Gartner Security and Risk Management (second) events. The Black Hat® Technical Security Conference was listed as fourth.
About T.E.N.
T.E.N., a national technology and information security executive networking organization, facilitates communication between technology and security executives to interact with peers, industry visionaries and solutions providers. Selected as a 2010 TAG Excalibur Award winner, T.E.N hosts the Information Security Executive™ (ISE™) Awards Program Series, live and virtual executive roundtables, road shows and private executive engagements. For more information, visit http://www.techexecnetworks.com and http://www.iseprograms.com
About the Atlanta Chapter of the American Marketing Association
With over 700 members, AMA Atlanta is the fifth largest professional chapter in AMA – the largest marketing association in North America with nearly 40,000 marketing professionals in 600 chapters. AMA Atlanta's primary function is to elevate the field of marketing by helping members grow their businesses, networks, knowledge and careers through "Linkology." The chapter facilitates critical linkages through an individual's lifelong path as a marketer by producing events and creating connections for marketers that provide inspiration, education, direction, employment and leadership. AMA members include professionals from an array of disciplines including: research, marketing technology, non-profit, academic, PR, advertising, branding, direct marketing, interactive, creative and next generation marketing. To learn more, visit http://www.ama-atlanta.com.
###