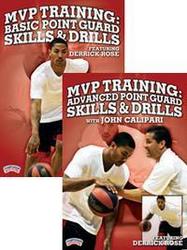 Ames, Ia. (PRWEB) March 4, 2011
Championship Productions, Inc. announced today the release of two new instructional basketball videos featuring 2008-09 NBA Rookie of the Year Derrick Rose and University of Kentucky head coach John Calipari. These exclusive videos -- which cover basic and advanced point guard skills and drills -- give viewers a first-hand look at what it takes for guards to improve their game as Calipari leads Rose and 17-year NBA veteran Rod Strickland through a variety of drills and simulations.
In MVP Training: Basic Point Guard Skills & Drills, the workouts revolve around three key areas: Skills, Drills, and the Mental Game. First, using on-court demonstrations, Calipari covers the necessary skills that point guards need to excel at, such as ball handling, executing proper passing angles, being a scoring threat, on-ball defense and free throw shooting.
Next, Rose and company showcase some of the best drills to practice shooting, play fast with the ball, and transition from the catch to the dribble, among many others. Then coaches and players alike can receive advice on the mental side of the game and learn exactly how to develop a confident swagger, leadership, mental toughness and a team mentality. Plus, viewers can sit in on an in-depth discussion between Calipari, Rose and Strickland and see how they developed their game to the highest level.
Also featured in the set is MVP Training: Advanced Point Guard Skills & Drills, which builds on the teaching points and drills from the first video and takes them to another level. Viewers can learn how to execute the four "S's" of a successful pick & roll (start, set-up, separation and score), plus key concepts using the popular Dribble Drive Motion Offense. Additionally, Rose demonstrates a variety of cone drills that focus on effective ball handling and dribble moves.
Through the exclusive basketball instructional DVD package, athletes, parents and coaches alike will be able to learn what point guards really need to know, see and execute when operating today's offensive systems. Plus, all of the drills and concepts can be incorporated into your own workouts and can even be performed by players on their own.
Both "MVP Training" videos are available exclusively at ChampionshipProductions.com. For additional basketball training tips and videos featuring the top coaches in the game, visit BasketballCoach.com.
About Championship Productions, Inc.
Founded in 1976, Championship Productions, Inc. produces high-quality instructional products featuring renowned professionals in every major sport. With an extensive catalogue geared toward coaches, parents and athletes, Championship Productions is internationally recognized as the industry leader in instructional videos, mailed books and guides for more than 20 sports, and is regularly distinguished for its first-class customer service. For further information, visit Championship Productions official website.
# # #