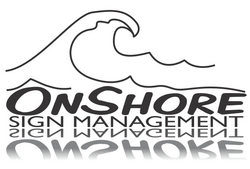 "We offer business owners our expert sign department management." - Chris Potter
Irvine, CA (PRWEB) March 4, 2011
OnShore Sign Management is an outsourced signage department based in Southern California that integrates seamlessly with our customer's construction projects, marketing and operation departments. "Our goal is to offer business owners that do not have sign experience our services so they are treated fairly in the sign industry." said Chris Potter, Owner and President. "These days, there are a number of ways for sign companies to win bids on projects by cutting corners in manufacturing and using subpar technology. By getting OnShore involved, we help you control the specifications so the signs built for your business are quality and last throughout the investment."
OnShore was created to assist business owners, small to large, with all of their sign requirements. From adding one sign to an existing location, keeping track of maintenance repairs, creating budgets for capital expenditure and new construction projects or managing a large scale rebranding program. We want to be the department that seamlessly integrates with each company to help save money on signs upon first purchase and or take full advantage of the warranties each sign or product company gives should something go wrong sooner than expected. Our customized database allows us to follow and track each component in each sign to make sure the owner only pays for it once during the allotted warranty periods.
We want to save our customers the headache of managing the sign companies out in the world. Finding the good ones and researching the new technology is our passion. OnShore promises to share what we find with our customers to benefit their image and their bottom line.
###