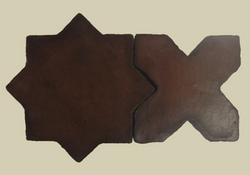 Los Angeles, CA (PRWEB) March 7, 2011 —
Granada Cement and Concrete Tile will be releasing three new cement and concrete tile collections at Coverings, the largest international tile and flooring show in the United States. The new offerings include the leathered Antique Concrete Tile Collection, the sensuous thin Mauresque Cement Tile Collection, and the Moroccan zellij-inspired Minis Cement Tile Collection.
These new tile collections greatly expand the design options Granada Tile offers architects, designers and homeowners seeking unique, handmade, durable products for floors and walls.
Other Granada Tile collections include the elegant Milano Tile Collection, the earthy terracotta-like Rustico Tile Collection and the popular Echo Tile Collection. Details, photographs and even customization (for the Echo Tile Collection) are available at http://www.granadatile.com.
Granada's three new tile collections as well as their legacy collections will be on exhibit at Coverings, which will be held at the Las Vegas Convention Center from March 14-17, 2011.
About Granada Tile
Based in Los Angeles, Granada Tile creates sensational, handmade eco-friendly cement and concrete tiles. Working closely with architects and designers, Granada Tile strives to capture the customer's creative vision through cement tile.
Top tier designers and architects (including Tihany Design, Zeff Design, BAMO, Shubin + Donaldson, and Bestor Architecture) have selected Granada Tile for their resorts, spas, restaurants, and offices. Homeowners and interior designers have chosen Granada Tile for their kitchens, bathrooms, living rooms, pools, patios on the floors and walls.
While producing cement tiles at the family's production facility in Nicaragua, Granada Tile lives up to its commitment to be an environmentally friendly business by managing resources responsibly and not contributing to landfills or using toxins.
###