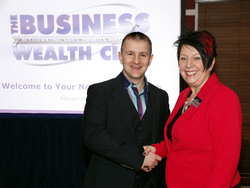 The Business Wealth Club is just what Business Owners need in the current Economic Climate
(PRWEB) March 5, 2011
The networking was some of the most vibrant seen for some time and was being hosted by Wealth Club Mentor Kath Bonner-Dunham, Founder of 4P's Business Development. Kath brings her impressive track record of business success including start up's and turnarounds to help Club Members achieve the Business Success they desire.
A diverse and wide range of businesses from varying sectors including Financial Advisors, Graphic Designers, Catering, IT, a Fitness Coach, Marketing Professional's and Estate Agents attended and were introduced to the clubs unique approach to engaging dynamic business training, coaching and mentoring to learn how to grow their Sales and Profits and Success.
Attendees all got the opportunity to speak for 30 seconds, and they shared some brilliant stories telling everybody of the problems that they solved, what they were looking for from the club, and how members could interact with them in the future.
There was an interactive "exercise" that really got the group thinking about the way they do things in their business, table discussions around the biggest issues facing their businesses in 2011, and owners getting to know each other better, plus finding ways to help each other.
The meeting attracted many seasoned networkers from the area as well as many new faces all-passionate about their business, their personal growth and the growth of their companies.
The breakfast was followed by a 90 minute workshop run by the Business Wealth Club Founder & Turbo Coach, Paul Avins. There was so much energy in the room it was amazing, Paul shared practical how to strategies to help every business boost their Profits by 101% in 2011.
16 guests took immediate action and were first in-line to join the new Northampton Club.
Club Mentor Kath said "this is just the sort of club that I would want to attend, to be a member of, to help grow my sales, profits and success which is why I was one of the first to contact Paul when I heard he was looking to Franchise his Oxford Club. Today's event just shows that Northamptonshire businesses are looking for this type of business support, especially in the current climate."
Northampton Club Meetings are to be held on the 2nd and 4th Tuesday each month with the second meeting of the month followed by a 90 minute workshop.
###