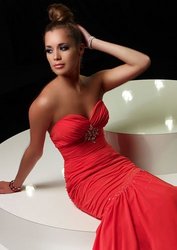 Life is full of Beauty. Notice it! ---Ashley Smith
Port Jefferson Station, NY (PRWEB) March 4, 2011
The 83rd Academy Awards, held at the Kodak Theatre on February 27, 2011 featured a spectacular parade of stars down the red carpet runway. Magic Moments, your number one designer dress store, was watching to get you all the latest styles and trends that were hot for 2011. It was all about the glitter and glamour and this year did not disappoint. The Oscars, since its inception, have been held in high esteem as one of the top events to display the latest in fashion trends and anyone who is anyone is in attendance dressed in their finery. All the big name fashion designers from Calvin Klein to Armani adorn the actresses and actors. This year many of the actresses favored "Red" as the color of choice. The trend this year seemed to be that "Less is more" and most of the actresses were adorned in beautiful gowns with limited jewelry and accessories, plus naturally sweeping hair styles.
The red carpet runway began early in the evening with the arrival of the stunningly attractive Jennifer Lawrence in a beautifully designed Calvin Klein gown that not only enhanced her already stunning figure, but the color "red" set off her natural beauty like no other color could. This red gown will be in style forever. It's simple, yet sexy. It was a perfect choice for the new young actress. Adding to the red theme was an elegant Vera Wang, red strapless gown worn by Sandra Bullock. Anne Hathaway (in Valentino Haute Couture) showed her "red" in a stunning strapless, with pick ups and rosettes style detail. Very Classy! And, if you love sexy sequins, you must also love Penelope Cruz's gown (by L'Wren Scott).
Hilary Swank tipped the red theme in a striking silver gown, with an ombre feathered train created by Gucci Premiere. Feathers were also a big trend at the Grammy's this year. Erin Andrews showed off her beautiful figure in a top to bottom sequined one shoulder dress. One shoulder is definitely a hot fashion trend this year, in long styles as well as short styles. Reese Witherspoon leaned more towards the 60's style, strapless, Black & White gown topped off with a retro updo. Another best dresses star that night was Jennifer Hudson. The Tangerine color was perfect to show off her new curves. The Atelier Versace halter style gown with a ruched bodice, finished with a dramatic train, really stood out.
This year the fashion designers received mix reviews from the globe, but no one could say that the gowns worn at the Oscars were anything but truly amazing. All the big name stars graced the red carpet runway with the paparazzi snapping pictures, one after the other, until it almost looked like fireworks exploding at some points. It was a dazzling display, as were the actresses and actors who alighted from classic and collector vehicles to walk the runway and stop for interviews.
This year's Oscars featured something for everyone in the fashion department and at the end of the evening the best dressed stars included Jennifer Lawrence, Gwyneth Paltrow, Sandra Bullock, Halle Berry, Jennifer Hudson, Anne Hathaway, Mila Kunis, Natalie Portman, Reese Witherspoon, and Michelle Williams.
The Oscars came to a close with several of the actresses hitting an inspiring note on the fashion runway and setting the stage to see who would inspire next year's best dressed list.
Find your Red Carpet look with us at http://www.magicmomentsprom.com or http://www.magicmomentscollections.com for your Prom, Wedding, Pageant, Sweet 16, Homecoming, Formal, Black Tie Affair, Engagement, Holiday Party, Awards Ceremony, Ball, Banquet, Cotillion or any special occasion you may have! Come visit us in NY and have our wonderful staff help you feel, and look like a "Star" ! Magic Moments....Where dreams come true!
# # #