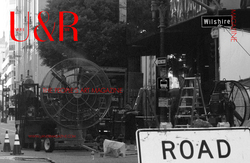 'Times are tough, but many times art is born out of such difficult circumstances.'
Riverside, CA (PRWEB) March 10, 2011
All art begins as an idea. Perhaps not even a fully formed idea. More the germ of an idea, a spark, an epiphany, what some refer to as an "ah ha" moment in the mind of its progenitor. In June of 2010, Andrianna Carter had that moment. She loves art in all its forms. Whether music, films, fashion, painting, cuisine, et al. It had been a life long love. A voracious reader, she devoured all she could find on art in whatever permutation struck her fancy. Andrianna had stacks and stacks of magazines dealing with specific genres. Wouldn't it be great, she thought, if there could be one magazine that covered all aspects of art. There it was, the spark, the seed from which Unique and Rare Magazine was born. Six months later, by dint of furious enterprise, its debut issue was released.
Unique and Rare Magazine exists to nurture that spark in the minds of new and emerging artists and to turn it into lightning. It provides them with exposure, to inspire them to pursue and fight for their dreams and to turn those dreams into reality. It gives voice to what it was that inspired them, what it is that they are trying to convey with their art and perhaps most importantly, how that creative self-expression has bettered not only their own life, but also, that of others. Within its pages is proof that anyone with the creative spark and passion can find a forum to share that passion with others and inspire them as well.
Initially, the primary focus of the magazine will be Southern California. Sadly, art is under attack here. Budget cuts have seemingly become a way of life. Not only is this true in California, but nationwide. The arts and art education have been the first to suffer as a result. The magazine is reaching out to academia to get involved to help encourage children in the pursuit of the arts. "Unique and Rare Magazine would love to feature young artists in the magazine as well as following up with them in future articles to see where their dreams of artistic expression have taken them," effuses Andrianna Carter, the magazine's founder. "Unique and Rare Magazine hopes to strengthen the rightful place that art should hold in life. Art is a large part of human culture. The arts mold and define many of us," she says. Unique and Rare Magazine is reaching out to like-minded organizations with an aim to strengthening the place that art should rightly hold within society. Unique and Rare Magazine is developing a partnership with TMG/Topspot Network, a subsidiary of TMG Digital Global to develop an online television show that will provide readers of the magazine an exclusive behind the scenes look at the world of art via interviews and video footage of events that might otherwise have gone unseen.
Art galleries around the Southern California area have greeted this new publication with excitement and have given the magazine their full support. Carter also stated, "The response has been fantastic! We were press at PhotoLA, ArtLA and the LA Art Show, which are huge in the art community, and they have been extremely positive about what we are trying to do. We have also been warmly welcomed to be press at Photography New York in March 2011."
In addition to new and emerging artists, the magazine hopes to feature one celebrity per issue. "Celebrities are artists whose dreams have become reality, so we hope they will be willing and able to give insight and words of encouragement to those who wish to follow in their footsteps," says Carter. "There is still talent out there and we want to show that to the world. Times are tough, but many times art is born out of such difficult circumstances. Society should be tapping into that creative pool and helping usher in a new era of talented work," muses Carter.
Art is all around us. The simple way that light plays upon a child's face in a photograph, the luscious taste of a finely prepared meal, the notes to a song that make it unforgettable, the stroke of the pen creating a literary masterpiece or the favorite line from a film that moves us. It all starts with that spark, that idea, that instant in time that happens in the mind and turns to beauty that everyone can share. Unique and Rare Magazine hopes to share those moments with the world.
The debut issue is available on Magcloud.com. Furthermore, Unique and Rare Magazine is proud to announce the recent printing of hard copies of the Winter 2011 issue. They are diligently working on a distribution deal to make the magazine available in your local stores, newsstands and bookstores.
http://www.uandrmagazine.com
Copyright © 2010 Unique and Rare Magazine L.L.C.
All Rights Reserved.
###