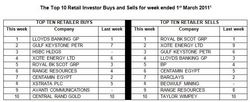 London (PRWeb UK) March 4, 2011
Darren Hepworth, Trading and Customer Services Director, TD Waterhouse comments: "TD customer buys increased by over 20% this week as we enter reporting season. Investors appeared ready to capitalise on anticipated share price hikes as several of the FTSE 100 banks reported full-year results. Meanwhile, geopolitical concerns in the Middle East and North Africa seem to remain on the investment agenda as events combined to keep the FTSE 100 below the 6000-mark week ending March 1, closing at 5935.76.
"Lloyds Banking Group accounts for over a third of the top ten buys this week, remaining at the summit of the table for a second week running, but down one place in the sells. The part-nationalised bank announced on February 25 its first full-year profit since its government bail-out during the financial crisis, making £2.2bn pre-tax, compared to the previous year's loss of £6.3bn.
"Elsewhere in banking, HSBC Holdings announced its full-year results for 2010 on Monday, entering the buys in third place week ending March 1. A pre-tax profit of £11.8bn more than doubled the banking giant's 2009 results, but analysts had anticipated even better figures causing the company's share price to slump from 727.30p on February 28 to 658p at close on March 1.
"After reporting a net loss of £1.1bn, Royal Bank of Scotland's chief executive Stephen Hester said he expected the bank's share price to remain volatile, which certainly rang true among TD customers this week with RBS placed at first position in the sells, but also fifth in the buys.
"Centamin Egypt remains a top ten favorite but has dropped five places to seventh in this week's buys table and one place to sixth in the sells. Reports suggest that movement of gold from its Sukari mine might be restricted after Egypt announced a ban on gold exports for the next four months.
"Finally, customers may have chosen to cash-in on Beowulf Mining, which enters at eighth place in the sells as group chairman announced strong prelims for the twelve months ended 31 December 2010."
The value of your investments can go down as well as up. You may not get back all the funds that you invest.
TD Waterhouse is the UK's leading execution only broker with trading rates starting from £8.95. Only 15 or more eligible trades per quarter are required to qualify for TD Waterhouse's frequent trader rates.
For more information customers can log on to http://www.tdwaterhouse.co.uk
About TD Waterhouse:
TD Waterhouse is the UK's leading execution-only broker†, servicing approx 200,000 UK customers with over £3.77 billion in customer assets (stocks and cash) under management. It is a subsidiary in the TD Bank Group (TDBG), the 6th largest bank in North America by branches. TDBG has 74,000 employees in offices around the world, serving 19 million customers with client assets of CDN$620 billion (as at 31, October 2010). † Source: Compeer based on daily average retail trades for TD Waterhouse including its white label partners, as at January 2011.
TD Waterhouse provides UK investors with simple, fast and easy share dealing services - combined with high quality news and information from leading providers including AFX and Morningstar (Hemscott) - to both active traders and longer-term investors. These include UK and international equity trading, Individual Savings Accounts (ISAs), Regular investment accounts, Self Invested Personal Pensions (SIPPs) and Contracts for Difference (CFDs).
The Top Ten Buys and Sells should not be taken as a recommendation to buy or sell any particular bond or stock, and it is not intended to offer any form of advice. Instead it is simply an indication of the general buying and selling trends amongst some TD Waterhouse customers, observed during the period stated.
TD Waterhouse is authorised and regulated by the Financial Services Authority (FSA), 25 The North Colonnade, Canary Wharf, London E14 5HS (FSA registered number 141282), member of the London Stock Exchange and the PLUS market.
###