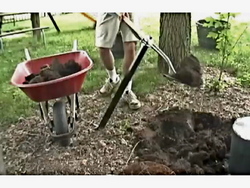 A really clever ergonomic tool. Could be used anywhere lifting power is needed.
Buffalo, NY (PRWEB) March 8, 2011
Eighty percent of Americans experience back pain, making lifting or gardening difficult. Leanlever significantly reduces back stress and increases power by adding mechanical advantage to simple tools. By combining a four bar linkage with a class 1 lever it maximizes lifting ability. Ergonomic analysis and an international consumer product testing laboratory confirmed Leanlever's capabilities. Jerry Behar of Levertech says, "The secret is its fulcrum that creates leverage and provides the ability to lift with core body muscles and the user's weight and legs, while it supports the object". Core body muscles and quadriceps are much stronger and fatigue less than smaller hand, arm, and back muscles. The device also prevents tipping by controlling and stabilizing the load during lifting. Dumping the load is easy with an innovative swivel mechanism. These features make Leanlever useful to everyone, especially those with limited strength, arthritis, or who just want to be independent.
Leanlever was demonstrated and won multiple awards at the INPEX 2010 new product convention including two Robert Bosch Tool Corporation Awards of Excellence. Passers-by said, "You can see how your back is not stressed, even lifting heavy rocks, how clever!" It is used indoors to lift and move furniture or heavy objects without bending. Leanlever is used outdoors to dig, lift and move soil, plants, rocks and debris. In winter, it attaches to large shovels to penetrate and lift hard, heavy ice and packed snow, when most snow shovels are useless. Couple it with other tools for DIY projects such as demolition, clean up, and floor work. When attached to a demolition bar, Leanlever can suspend lifted objects, assisting in emergencies and disasters such as earthquakes and hurricanes. See demonstration videos at http://www.leanlever.com/demos.php.
Leanlever® (patent pending) is a convenient tool that sets up in seconds, uses virtually no storage space, is simple to use and can save homeowners the cost of a contractor or a chiropractor visit. Learn more at http://www.Leanlever.com or contact Jerry Behar at (716) 228-1258.
About the company: Levertech LLC is located in Buffalo, NY and focuses on developing new innovative products by leveraging technologies.
###