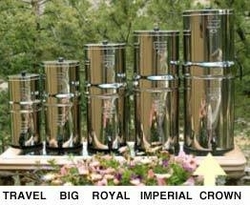 Life is unpredictable. Berkey water filters are Dependable, Durable, and Affordable. Berkey filters remove 99.999% of contaminants from water. Be Ready with a Berkey. Receive a FREE Water Filter Bottle with each Berkey purchased.
Orlando, FL (PRWEB) March 5, 2011
Berkey Water Filters sales are up even in a down economy as people look for ways to save money as well as take Emergency Preparation seriously. According to 911water.com, more families are using Berkey filters to bottle their own water, both to save money and avoid chemicals and other impurities in tap water and bottled water. In addition, bad news from around the world has people buying Berkey Water Filters "just in case something bad happens here." Noll said, "When people see warnings from the Department of Homeland Security come true, they finally wake up and take emergency preparation seriously, and water filters are a huge part of emergency preparation."
Berkey Water Filters aren't just for Emergencies," says Noll, "They are great for everyday use as well. My family uses a Berkey filter because they require no electricity, no water pressure, and no chemical additives, but they still filter out 99.999% of the contaminants in the water, and cost only pennies per day. Very few water filter systems can make that claim, and they save us tons of money on bottled water."
However, even those who aren't using Berkeys for everyday use are grabbing one and storing them "Just in Case." According to Noll, many customers of 911water do not plan to utilize Berkey Filters on a daily basis, they just want to make sure that if the local water supply is disrupted or polluted, they will still have clean water to drink.
Berkey Filters come in a variety of convenient sizes for all types of families and situations. The most popular size is the Big Berkey, which holds 2.25 gallons and can process up to 3.5 gallons per hour of safe drinking water from any source. Berkeys are gravity fed water filters, with water being poured into the top container and filter gradually through the elements into the bottom of the container. Drinking water can then be removed via the spigot at the bottom of the container.
911water.com is not only commited to Emergency Preparation, they also assist with recovery. 911water has initiated "Hope For Haiti" in partnership with Food for the Poor, which has a goal of sending 1000 Bucket Berkeys to help the poor in Haiti have access to clean, healthy water.
To encourage people to prepare for emergencies, 911water is offering a
FREE Portable Water Filter Bottle with the purchase of every Berkey Filter System. Portable Water Filter Bottles let you take water purification with you wherever you go," says Noll, " without having to carry bottled water. It's great for Hunters, Campers, Hikers and other Outdoors Enthusiasts, but also works for travellers. You can just stick it in your suitcase or the trunk of your car in case you get stranded in a place with questionable water quality. You can literally drink water out of mud puddle or any source."
911water.com is an online internet retail store that was started in 1999 with a commitment to provide customers with a safe and enjoyable water filter shopping experience. They honor that commitment to this day by offering a broad selection of well-know brands, competitive prices, and superior customer service. In addition to Berkey Water Filters, they also sell 42 other brands of water filters inlcuding GE, Culligan, Aquasana, Katadyn, Seychelle, and more, as well as emergency prepation resources and products. They serve customers by educating them on the value of water filter systems and by offering educational information on how to select a water filter that will best suit their needs.
###