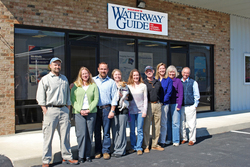 Deltaville, VA (PRWEB) March 4, 2011
Waterway Guide and Dozier Media Group have relocated editorial and production operations from their facility in the Eastport section of Annapolis, Maryland to a new, larger and more modern facility in Deltaville, Virginia, home of the Waterway Guide Corporate Offices. The relocation allows integration of Editorial, Research, Production, Sales and Marketing, Distribution, Accounting and Management under one roof rather than the previous three separate locations in Deltaville and Annapolis.
The additional space has also allowed Waterway Guide to expand office staff for continued growth into new print and online products and services. Due to an increased demand for products and services from Waterway Guide and its sister company, Skipper Bob Publications, the larger facility provides considerably more storage and streamlines shipping to retailers and customers.
Key editorial, production and management personnel have relocated to the new headquarters in Deltaville where they join existing staff in research, online media, accounting, distribution, sales and marketing, new product development and customer service.
Jack Dozier, Waterway Guide publisher/owner, states "After outgrowing our former space, we are extremely happy to be together again under one roof where interaction among staff is critical for the accurate, detailed, up-to-date information we provide to the cruising community."
Waterway Guide is an advocate for the marine community and is the only cruising guide of its type to be updated annually by experienced on-the-water cruising editors. The company publishes six annually updated editions, with over 3,000 pages, covering the Atlantic and Gulf coasts, the Coastal Bays and Rivers, Great Lakes, and the Bahamas, and is now a major provider of online navigation and cruising information. Retailing for $39.95, the Guides are available from the Waterway Guide website at http://www.WaterwayGuide.com and from marine stores and booksellers in the U.S., Canada and the Bahamas.
For further information contact:
Waterway Guide
c/o Dozier Media Group
P.O. Box 1125
Deltaville, VA 23043
Phone: 804-776-8999
Fax: 804-776-6111
info (at) waterwayguide (dot) com
###