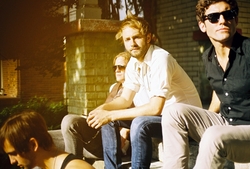 Nashville, TN (PRWEB) March 4, 2011
Paul McDonald has made it past yet another round of American Idol. The singer/songwriter was named to the competition's Top 13 roster Thursday, March 3rd, after his rendition of Rod Stewart's "Maggie May" prompted judge Steven Tyler to praise the "character" in his voice. Voters agreed, and the artist MTV declared "puts the cool back in American Idol" advanced to the next round of competition.
With McDonald's continued success comes great visibility for his band, The Grand Magnolias, which has seen national success with their self-titled debut album. The day before the Top 13 American Idol contestants were announced, the album The Grand Magnolias had risen to number 3 on the iTunes rock chart and number 43 on the iTunes chart that represents all genres.
As the American Idol competition continues, fans can expect McDonald to continue to showcase his talent and style. His signature rhinestone suit will soon be making another appearance. Fans may show their support for the artist by purchasing a rhinestone suit shirt. The shirts are available at http://thegrandmagnolias.com/store/.
Paul's American Idol journey began in Nashville, TN, where the singer/songwriter auditioned and received a "golden ticket" from judges Steven Tyler, Jennifer Lopez and Randy Jackson. Despite the sudden national attention, he has been writing songs and performing nationwide for years. He began touring the country in 2005 but recently formed The Grand Magnolias, releasing their debut album in November 2010. During his career, McDonald has performed with a variety of musicians, including the Zac Brown Band, Sara Bareilles and JJ Grey. He has also played festivals such as SXSW and Bonnaroo.
For more information on Paul McDonald and The Grand Magnolias, visit http://www.thegrandmagnolias.com and http://www.thepaulmcdonald.com. Video of McDonald and the band can be viewed at http://www.youtube.com/user/TheGrandMagnolias.
# # #