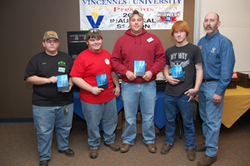 Together, we can ensure that these kids are prepared to enter the manufacturing sector, prepared and with the right tools to get the job done.
Clearwater, FL (PRWEB) March 5, 2011
When BobCAD-CAM Software found out that the 2011 Indiana Statewide Machine Trades Contest, hosted by Vincennes University's Precision Manufacturing Department was under way, they decided to participate in the event. This year nearly 50 of the best of the best students from 9 high schools around the state of Indiana registered for the contest. The students competed in a variety of CNC Machining challenges. Mr. Scott Wallace, the Program Coordinator from the Precision Manufacturing Department at Vincennes University was very happy with the turnout, "We awarded BobCAD-CAM software to the first, second, and third place overall winners in the CNC Division, as well as the first place overall winner in the Advanced Division."
By providing more than $17,000.00 in advanced CNC programming software that was awarded to the top winners in the competition, BobCAD-CAM continues to show support to schools that prepare students for entering the manufacturing sector. BobCAD-CAM Educational Director, Kevin Hughes stated, "These students are the future of American Manufacturing, and the contest fully aligns with our Manufacturers of the Future campaigns to support education in the United States and throughout the world, and we wanted to contribute to making sure that these students are fully prepared when they're ready to enter the workforce." The "Manufacturers of the Future" campaign supports all schools throughout the country that teach design and CNC Programming by providing cutting edge CAD/CAM software, training and other educational resources to help schools create effective curriculums that are built for student success. This program is for schools at all levels; high schools and up, including trade schools offering special CNC related curriculums.
For more information on the Manufacturers of the Future program contact BobCAD-CAM directly at 877-262-2231 or 727-442-3554 or visit http://www.bobcad.com/community/educational.
###